There was a time when Indians are addicted to web series made by foreign countries including USA, UK and other regions. But, now time has been changed as Indians are accepting more Indian web series.
Why? Well, the reason may be poor Indian TV serials or they bored of Indian Movies with same plot.
In last little Years Indian entertainment market is flooded with tones of Web Series and every Indian loved it. Earlier in India there wasn't any presence of OTT platforms but not we have lots of choices.
Currently Indian audience can opt for many OTT platforms including Netflix, Amazon Prime Video, Disney+ Hotstar, MX Player, TVF Play, ZEE 5, AltBalaji, Sony Liv and many more.
When OTT platforms like Netflix and Amazon Prime Video entered in Indian market they were only showing other country's web series because there were no Indian originals. If there is popularity of Indian web series are there then it's credit goes to Netflix. Yes, Netflix changed the course of the game by launching the most popular Indian Original web series Sacred Games starring Nawazuddin Siddiqui, Saif Ali Khan and Radhika Apte. After Sacred games other OTT platforms also jumped in Indian originals and now we have Mirzapur and other amazing web series.
Best Hindi Web Series to Watch on OTT Platforms
Today in this article we will discuss the most popular Indian Originals on various OTT platforms including Netflix, Amazon Prime Video, TVF Play, Disney+ hotstar and others
Best Indian Hindi Web Series on Netflix
Netflix is #1 OTT platform in India and within short time they have released some good quality content on their platform. On Netflix Sacred Games was the first Hindi Web Series made by Netflix and it received good reviews from Indian Audience.
After Sacred Games Netflix never stopped producing some good quality content. Recently Delhi Crime web series won Emmy Award for best drama series and is available on Netflix. Check out some best hindi web series to watch on Netflix.
#1 Sacred Games
Genre – Action, Crime, Drama
Total Seasons – 2
IMDB Rating – 8.7
If you want to explore the world of thrilling Indian Hindi Web Series then do watch Sacred Games first. Yes, Sacred Games changed the course of web series in India. Sacred Games season 1 became immensely popular amongst the Indian audience when it released.
Sacred Games web series is based on Vikram Chandra's Novel on the same name. Sacred Games was complete action thrilled web series and also first original series from Netflix in India. Sacred Games was directed by Vikramaditya Motwane and Anurag Kashyap and written / adopted by Varun Grover and other prominent writers team.
In this web series Saif Ali Khan played role of Sartaj Singh who is troubled police officer gets call from Gangster Ganesh Gaitonde played by Nawazuddin Siddiqui and tells him to save the city within 25 days. After this event there is series of action, thrill, suspense and every drama which made this web series immensely popular.
Motwane directed the Sartaj Singh part where as Anurag Kashyap directed Nawazuddin's part. There is 2 seasons of Sacred Games and available on Netflix. So, begin your journey now to the world of Web Series.
Sacred Games Cast
Sacred Games has some amazing star cast which includes amazing actors. Both Sacred Games Season 1 and Season 2 has new actors. Pankaj Tripathi didn't make any appear in Season 1 but season 2 was just surrounded by him. Here is the complete Sacred Games Cast.
| | |
| --- | --- |
| Actor | Character |
| Saif Ali Khan | Inspector Sartaj Singh |
| Nawazuddin Siddiqui | Ganesh Gaitonde |
| Radhika Apte | Anjali Mathur |
| Pankaj Tripathi | Khanna Guruji |
| Kalki Koechlin | Batya Abelman |
| Ranvir Shorey | Shahid Khan |
| Neeraj Kabi | DCP Dilip Parulkar |
| Jatin Sarna | Deepak "Bunty" Shinde |
| Kubra Sait | Kukoo |
| Jitendra Joshi | Constable Ashok Katekar |
| Rajshri Deshpande | Subhadra |
| Elnaaz Norouzi | Zoya Mirza/Jamila |
| Luke Kenny | Malcolm Mourad |
| Aamir Bashir | Inspector Majid Ali Khan |
| Geetanjali Thapa | Nayanika Sehgal |
| Surveen Chawla | Jojo Mascarenas |
| Shalini Vatsa | Kanta Bai |
| Amruta Subhash | Kusum Devi Yadav |
| Girish Kulkarni | Bipin Bhosale |
| Anupriya Goenka | Megha Singh |
| Affan Khan | Young Sartaj Singh |
| Sunny Pawar | Young Ganesh Gaitonde |
| Danish Pandor | Bada Badariya |
| Anil Mange | Chota Badariya |
| Vikram Kochar | Mathu |
| Samir Kochhar | ACIO Markand |
| Chittaranjan Tripathy | Trivedi |
| Rajendra Shisatka | ASI Dhobale |
| Sukhmani Sadana | Mikki |
| Muni Jha | Paritosh Shah |
| Karan Wahi | Karan Malhotra |
| Nawab Shah | Salim Kaka |
| Saanand Verma[3] | Purushottam Baria |
| Jaipreet Singh | Constable Dilbagh Singh |
| Saurabh Sachdeva | Suleiman Isa |
| Neha Shitole | Shalini Katekar |
| Smita Tambe | ATS Analyst Rama |
| Harshita Gaur | Mary Mascarenas |
| Priyanka Setia | Harsha Baria |
| Sandesh Kulkarni | Gaitonde's Father |
| Vibhavari Deshpande | Gaitonde's Mother |
| Joy Sengupta | Mathur |
| Amey Wagh | Kushal |
| Jaimin Panchal | Gaitonde's Brother |
#2 Bard of Blood
Genre – Action, Adventure, Drama
Total Seasons – 1
IMDB Rating – 7
Bard Blood web series is based on the novel by Bilal Siddiqi on same name in which was launched in 2015. In Bard of Blood Emraan Hashmi is playing the role of RAW agent who fallen out after his partner's death in one of the operation. Emraan Hashmi is called by secret service director when 4 intelligence officers were kidnapped by terrorists in balochistan.
Kabir goes to rescue all 4 intelligence officers by taking help from agent who is based in Pakistan for a long time and Isha khanna who is playing the role of Analyst. During this mission many events happen with the Kabir and team and their rescue mission becomes very dangerous. Bard of Blood has some genuine star cast and fabulous direction. Bard of Blood is the first web series by Emraan Hashmi.
Bard of Blood Cast
In Bard of Blood you will see some familier cast and talented actors. Apart from Emraan Hashmi there are few more amazing actors in it including Jaideep Ahlawat and Vineet Kumar.
| | |
| --- | --- |
| Actor | Character |
| Emraan Hashmi | Kabir Anand/Adonis |
| Vineet Kumar Singh | Veere Singh |
| Sobhita Dhulipala | Isha Khanna |
| Danish Husain | Mullah Khalid |
| Kirti Kulhari | Jannat Marri |
| Abhishekh Khan | Nusrat Bashir Marri |
| Ajay Mahendru | Rehmat Khatib |
| Asheish Nijhawan | Aftab Khalid |
| Shamaun Ahmed | Qasim Baluchi |
| Jaideep Ahlawat | Tanveer Shehzad |
| Rajit Kapur | Sadiq Sheikh |
| Shishir Sharma | Arun Joshi |
| Amit Bimrot | Nihar Gupta |
| Sohum Shah | Vikramjeet |
| Shruti Marathe | Neeta |
| Sahiba Bali | Abida, love-interest of Tanveer Shehzad |
| Kallirroi Tziafeta | Jessica Parker |
#3 She
Genre – Crime, Drama
Total Seasons – 1
IMDB Rating – 6.5
She is Indian crime drama web series created and written by evergreen Imtiaz Ali. Imtiaz Ali's main genre is considered as romance but he nailed She web series when it comes to writing.
She Web series is a story of female constable in Indian police force and added in the team of Anti Narcotics Group to catch major drug king. After joining the anti narcotics group she goes undercover to bust the underworld gang while in constant communication with the police. She faces several situations while being undercover and each show wonderfully crafter for the viewers.
#4 Delhi Crime
Genre – Crime, Drama
Total Seasons – 1
IMDB Rating – 8.5
Delhi Crime web series is based on 2012 Delhi Gang Rape Case which is also known as Nirbhaya case happened in Munirka, South Delhi. This Nirbhaya case shattered whole India because it was extremely brutal. Many Indians started protests against the government and police system after this case.
Delhi Crime Web series followed the aftermath story of gang rape where Deputy Commissioner of Police (DCP) Vartika Chaturvedi were given this case to find the culprits and held responsible for the assaults. Delhi Crime web series is created by Richie Mehta who passed delhi crime idea to Neeraj Kumar (Former CP Of Delhi Police) and Kumar helped him to meet the investigating team and also provided access to some legal documents related to this case.
After meeting the team and everyone who involved in this case Richie Mehta was amazed to experience how this case resolved quickly.
Recently Delhi Crime won International Emmy Award for Best Drama series. [News]
#5 Jamtara
Genre – Crime
Total Seasons – 1
IMDB Rating – 7.3
Good content always drives the good audience and Jamtara is one of them. Jamtara crime drama web series is based on phishing operations happens in Jamtara district, Jharkhand.
Jamtara story revolves around some young boys from Jamtara who operates successful finance phishing racket and earns money illegally. Some young boys calls individuals and do scam with them by asking their Credit / Debit or bank details and earn loads of money.
Soon one local corrupt politician knows about it and asked for a share from their business. Slowly everyone knows about this scam and finally one honest cop took this case and fight against them.
#6 Selection Day
Genre – Sport
Total Seasons – 1
IMDB Rating – 7.4
Selection Day web series is based on Aravind Adiga's 2016 novel on same name. Selection Day is story about 2 brothers who was raised by his cricket obsessed father who's only goal to see his kids in the Cricket team.
Radha and Manjunath both have been trained by their father to become great batsmen ever. Both the brothers played a lot with village teams against the best local bowlers but soon his father realized that now it's time to move to Mumbai to get selected in domestic leagues for upcoming season.
Selection Day series shows the cricket passion amongst the boys and how they prepare to get selected in cricket team.
#7 Little Things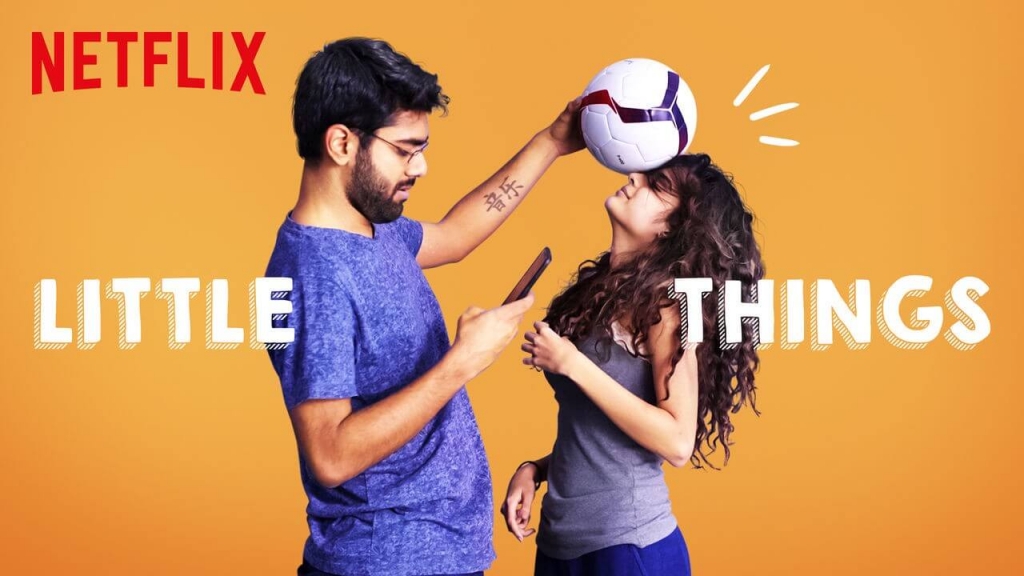 Genre – Comedy, Romance
Total Seasons – 3
IMDB Rating – 8.2
Little Things is a romantic drama web series by Pocket Aces which features the story of a couple named Kavya and Dhruv who lives in a live-in-relationship. Netflix purchased the dice media production and produced second and third season of Little Things on their platform.
Both Kavya and Dhruv lives in Mumbai and story revolves around their good memories and how they overcome their challenges and insecurities together. If you are looking for some entertainment then don't expect it from this web series because Little Things web series shows the struggle of a couple in big city facing various challenges.
#8 Ghoul
Genre – Drama, Fantasy, Horror
Total Seasons – 1
IMDB Rating – 7.1
Ghoul is horror web series and it's second Netflix original in India after Sacred Games featuring Radhika Apte. It is based on the Arab folklore monster ghoul. In Ghoul web series interrogation happens of a dangerous terrorist named Ali Saeed in one of the secret internment camp of a government.
Interrogation of a terrorist ignites the range of horrifying incidents and supernatural events in the camp. Radhika Apte did brilliant acting in this mini web series. Ghoul received some decent reviews across critics and viewers.
#9 Hasmukh
Genre – Comedy, Crime
Total Seasons – 1
IMDB Rating – 5.3
Hasmukh web series is based on dark comedy theme and it's Netflix original hindi web series. This web series is a story about Hasmukh which was played by talented Vir Das who was an orphan and neglected by the society abused and bullied by people from the young age.
Hasmukh is an aspiring comedian wants to do standup comedy in front of the audience but soon he realized that murdering people will fulfill his dream. But there will be terms and conditions to kill the people as per Hasmukh. This web series doesn't have high ratings on IMDB but it has different story so, people will love it.
Best Indian Hindi Web Series on Amazon Prime Video
#1 Mirzapur
Genre – Action, Crime, Drama
Total Seasons – 2
IMDB Rating – 8.4
After Sacred Games, Mirzapur was the series which became very popular due to it's story, dialogues and actors. Mirzapur is all about the different mafia groups who wants to rule the Mirzapur by doing heinous crime, selling illegal things, taking political advantages and by killing anyone who comes in between them.
In Mirzapur each and every actor did their part brilliantly and that's the reason everyone become overnight famous amongst the Indian audience. Every character of this series including Kaleen Bhaiya (Pankaj Tripathi), Munna Tripathi (Divyendu), Bablu Pandit (Vikrant Massey) and Guddu pandit (Ali Fazal) did their part beautifully.
Recently in October 2020 Mirzapur 2nd Season release which also received good response from the audience. After Sacred Games and Mirzapur many web series launched with similar plot (Action & Thriller)
Mirzapur season 3 will also be there so, fans had to wait for some new story and twists.
#2 Breathe
Genre – Drama, Thriller
Total Seasons – 1
IMDB Rating – 8.3
Breathe is one of the most underrated hindi web series available on Amazon prime starring R. Madhvan and Amit Sadh. Breathe is Crime and Thriller web series based on unique concept and story line. In this Web Series Danny Mascarenhas's (R. Madhvan) son is suffering from weak lungs and looking for organ donors. Unfortunately his son's blood group is very rare thus he is in the queue of receiving the organs.
Danny decides to take wrong way to provide organ to his son as soon as possible. Kabir Sawant (Amit Sadh) is a crime branch officer and also an alcoholic facing some issues in his personal life takes this case in his hand. Danny is too smart to do all the crimes without giving any hints to the police and Kabir does everything in this web series to catch the killer Danny.
The main motto of this web series is everyone should take the pledge to donate their organs when they dies so, it may save many lives. If you want to experience some unique story and acting then do watch this web series. Both Madhvan and Amit Sadh played their characters from the heart and you will love their performance.
#3 Breathe Into the Shadows
Genre – Drama, Thriller
Total Seasons – 1
IMDB Rating – 7.7
Breathe into the Shadows is the second part of Breathe web series but here we are mentioning it as separate season because not many factors are linked between 2 seasons apart from some characters. In Breathe into the Shadows new entries were Abhishek Bachchan and Nithya Menon.
In Breathe into the Shadows Abhishek Bachchan is playing the role of psychiatrist named Avinash Sabharwal where he helps Delhi police to solve some cases when required. Nithya Menon (Abha Sabhawal) is playing the role of his wife and she is Chef in the movie. Avinash's daughter gets kidnapped and the family never receives any update from kidnapper for 9 months. But, suddenly kidnapper contacts them and asks to kill people in return of their daughter.
Breathe into the Shadows is full of drama, action, suspense and thrill. If you are into some good story line then you should definitely watch this series. The only problem with this hindi web series is that it has 12 episodes and each episode is very long so, few people may find it boring.
#4 Made in Heaven
Genre – Drama, Romance
Total Seasons – 1
IMDB Rating – 8.3
Made in Heaven is one of the best hindi web series available on Amazon Prime. If you have watched Band Baaja Baarat then you will get the plot for Made in Heaven (Just the base). Made in Heaven is story about 2 wedding planners who runs the agency and plans the big fat wedding for rich family.
Each and every episode of Made in Heaven is epic as it shows how modern and rich Indian wedding looks like. Made in Heaven also displays how bride, groom and their family faces various kind of issues at the verge of the wedding and how these wedding planners tries to solve this issues to finish the wedding on time.
These web series is created by Zoya Akhtar and Rima Kagti and they known for their lavish content so, you will find some colorful characters, incredible sets, and beautiful storytelling.
#5 Inside Edge
Genre – Drama, Sport
Total Seasons – 2
IMDB Rating – 8.0
Inside Edge would be the first web series based on Cricket. Inside edge was the first hindi language web series distributed by Amazon Prime. Inside Edge is the story of cricket team franchise named Mumbai Mavericks who is playing in Powerplay League (PPL).
The owner of the franchise team operates the league wide spot-fixing syndicate using the money, fame, power and glamour. This web series shows that how some players are the puppets of politics and power and they had to do what they has been told by their bosses. Inside edge story and plot is quite gripping and most Indian viewers are already engaged with IPL so, the story of this web series will provide them some good likable content.
#6 Paatal Lok
Genre – Crime, Drama, Thriller
Total Seasons – 1
IMDB Rating – 7.8
Paatal Lok web series is based on Tarun Tejpal's 2010 novel named The Story of My Assassins. Paatal Lok web series has an amazing star cast including Jaideep Ahlawat, Gul Panag, Neeraj Kabi, Swastika Mukherjee and Abhishek Banerjee.
In Paatal Lok Jaideep Ahlawat is playing the role of disillusioned cop named Hathiram Chaudhary who got one case of an assassination attempt which gone wrong. His senior police officers think that Hathiram is not capable of anything so, just give him this case as it was crystal clear. But, the case was not crystal clear rather a mystery and Hathiram goes beyond his way to solve this case.
Director and writer also worked on to display the background story of each leading character in this web series which is worth a watch. Each character played their role brilliantly and is considered as one of the best hindi web series to watch in 2020.
#7 The Family Man
Genre – Action, Comedy, Drama
Total Seasons – 1
IMDB Rating – 8.6
In hindi web series you either loves the acting or the story but when it comes to Manoj Bajpayee you will love everything. The Family man is story about Srikant Tiwari (Manoj Bajpayee) a middle class family man who secretly works as an intelligence officer for T.A.S.C which is a fictitious branch of National Investigation Agency.
Srikant Tiwari has 2 kids and a wife and In The Family Man he is on an investigation of a potential terrorist attack which is his top priority in national interest. While solving or investigating this case he also tries to balance his unsettled family life. The Family Man other cast includes some quality actors including Priyamani, Sharib Hashmi and Sharad Kelkar.
The Family Man is must watch hindi web series on Amazon Prime. The Shooting of second season is almost completed and may come at any time.
#8 Bandish Bandits
Genre – Drama, Romance
Total Seasons – 1
IMDB Rating – 8.7
Bandish Bandits is musical web series which was appreciated by viewers and critics and currently one of the top rated series on IMDB. Bandish Bandits is story about Radhe and Tamanna. Radhe is following the footstep of his grandfather to make classical music where as Tamanna is rising pop sensation who wants to become India's first ever international popstar.
Radhe falls in love with Tamanna and his world turns upside down. Bandish Bandits is story about the difference and similarities between classical and pop music. This web series has some pure music which will give peace to your soul.
#9 Laakhon mein Ek
Genre – Drama
Total Seasons – 2
IMDB Rating – 8.3
Amazon Prime has some really good hidden content which you are missing. Laakhon Mein Ek is one of the most underrated web series which should be watched by parents and their kids who wants to make their career which they like.
Laakhon Mein Ek was created by Popular Standup comedian and writer Biswa Kalyan Rath starring Ritwik Sahore. Laakhon Mein Ek is story of Akash Gupta from Raipur and very poor in study but he became sensation to make mimicry videos. Akash wants to build his career in the same field but his father wanted him to get admission in IIT and become engineer.
But, due to less marks he didn't get admission anywhere in Raipur so, his father sends him to a coaching institute in Vishakhapatnam where he gets seat in Section D with students having less marks. This web series clearly shows how one student pressurized to achieve something in career by following their parents advise and shatters their own dream.
Laakhon mein ek has 2 seasons and in second season you will find Shweta Tripathi as lead actor. Both seasons are not connected with each other so, you can watch season as per your choice.
#10 Panchayat
Genre – Comedy, Drama
Total Seasons – 1
IMDB Rating – 8.7
Panchayat is Indian comedy drama web series released in April 2020 produced by The Viral Fever. If you want to enjoy some light comedy drama series then must watch Panchayat.
Panchayat is a story of engineering graduate Abhishek Tripathi (Jitendra Kumar) who joins Panchayat Secretary job in remote village of Uttar Pradesh named Phulera. Abhishek had to take this job due to lack of better job options.
Abhishek Tripathi never lived in any village so, his experience is quite unique in the village as he meets and deals with Pradhan, Police and people of village. Panchayat has some brilliant cast includes veteran actors like Neena Gupta & Raghubir Yadav. Panchayat season 1 was appreciated by many viewers and critics. Currently the makers are working on Panchayat Season 2 where it seems like Abhishek will fall in love with the daughter of the Pradhan. It will be interesting to see the second season and some new characters.
#11 Hostel Daze
Genre – Comedy, Drama
Total Seasons – 1
IMDB Rating – 8.6
If you are millennial and recently passed out from college then this web series is for you. Hostel Daze is all about the college and hostel life. Hostel Daze web series set in engineering college where students from different background meets and share their life experience together.
Hostel Daze is focusing on three friends story and how they enjoys their college and hostel life. Hostel Daze is created by TVF and has some amazing college anecdotes and scenes which will take you back to your college life. If you really miss your college friends, hostel corridors and late night parties then do watch this web series.
#12 Four More Shots Please
Genre – Comedy, Drama, Romance
Total Seasons – 2
IMDB Rating – 6.8
Four More Shots Please is the desi version of Sex and the City and first all women centric original web series. Four More Shots Please is story about four unapologetically flawed women starring Sayani Gupta, Bani J, Kirti Kulhari, and Maanvi Gagroo.
All four women regularly meets at one bar in Mumbai which was Jeh's bar (Prateik Babbar) and discuss about their life, struggle and love. Four More Shots Please doesn't have good rating but as per Amazon Prime this series is hit. Yes, according to Amazon Prime first season was amongst the most watched top 3 seasons on the platform in 2019. The second season was "Most watched Indian Show on Platform" in May 2020. Amazon also announced that 3rd season of Four More Shots Please is in work and will soon launch on the platform.
#13 Tandav
Genre – Political Drama
Total Seasons – 1
IMDB Rating – 4
Tandav is political thriller web series created, directed and produced by Ali Abbas Zafar. Tandav series has some impeccable cast includes Saif Ali Khan, Sunil Grover, Tigmanshu Dhulia, Dimple Kapadia, Mohammed Zeeshan Ayyub, Dino Morea and Anup Soni.
Tandav Series is all about dark side of the politics and how politicians do dirty work to gain and stay in power. Filming of Tandav web series mostly shot across pataudi palace, Haryana and Delhi.
The story revolves around Samar Pratap Singh (Saif Ali Khan) who thinks he is ready to inherit the chair of PM but his father Devki Nandan Singh wasn't ready to retire from the politics and give PM seat to his son.
Not just Samar but many other senior party leaders were also ready to take the chair but it wasn't that easy due to various problems in between. Story of Tandav is very powerful and the main highlight of this web series was Sunil Grover.
When Tandav released on Amazon Prime Video it instantly became controversial due to some religious content on the show. Due to this controversy many viewers gave the lowest rating on IMDB.
Later creators of the show happily agreed to remove some controversial scenes from the web series. Creators and Amazon Prime didn't announced the second season of Tandav so, will update once there is any news about it.
Best Indian Hindi MX Player Web Series
#1 Aashram (2020)
Genre – Crime
Total Seasons – 2
IMDB Rating – 7.8
In the Late 90's and early 00's Bobby Deol was one of the most popular super star in the country. But in last one decade he was not in the limelight much and was doing some average movies till he gets chance to work in Race 3. No, he wasn't in the lime light again due to the movie but because of his new look and body.
Aashram is directed by Prakash Raj and story of this web series is about self-proclaimed Godman named Baba Nirmala which played by Bobby Deol. In this web series Baba Nirmala's devotees and followers blindly trust him for his capabilities to solving their problems. But there are many dark truth which Baba hides from the real world. These dark truth or dark secrets includes the murder mysteries and cruel crimes.
Bobby Deol has done some good work in this Web Series and cast includes Chandan Roy Sanyal, Darshan Kumaar, Aaditi Pohankar, Tridha Choudhury and Anupriya Goenka among others.
#2 Queen
Genre – Biography, Drama, History
Total Seasons – 1
IMDB Rating – 9.2
Ramya Krishnan doesn't need any introduction as everyone knows her for his famous portrayal of Shivagami in both Baahubali movies. Queen Web Series is based on former chief minister of Tamil Nadu late Jayalalithaa. Queen is critically acclaimed web series and many people loved the performance of Ramya.
Queen web series depicts the journey of Jayalalithaa in politics and how she faced various challenges in her life and achieved milestones in Tamil Nadu as well as Indian Politics. This web series also shows some of her events of cinema and Indian politics which shaped her life.
#3 Raktanchal
Genre – Action, Crime
Total Seasons – 1
IMDB Rating – 8.1
Raktanchal is action packed web series set in 80's Purvanchal. Raktanchal cast includes Nikitin Dheer, Kranti Prakash Jha, Soundarya Sharma, Ronjini Chakraborty, Vikram Kochhar and more. Yes Kranti Prakash Jha is the same person who played the role of Dhoni's friend in M.S Dhoni movie.
In this web series both Vijay Singh (Kranti Prakash Jha) and Wasim Khan (Nikitin Dheer) were tender mafia and wanted to dominate the Purvanchal. Wasim khan was getting support from ruling party leader where as Vijay Singh was looking for some strong support. Both Vijay and Wasim come face to face for contracts from Coal to Liquor and story revolves around money, power and politics.
Raktanchal do have some good caste but somewhere story of this series was not that gripping thus it didn't make its mark like Mirzapur. Season 2 is yet to release so, let's see how writer and director pulls the viewers.
#4 Bhaukaal
Genre – Action, Crime
Total Seasons – 1
IMDB Rating – 8.4
Remember Mohit Raina from Devon ke Dev…Mahadev and URI: The Surgical Strike? Well, in Bhaukaal web series Mohit Raina is playing the lead role of SSP Naveen Sikhera. Bhaukaal story was set in Muzaffarnagar where crime is at its peak and newly appointed SSP Naveen wanted to make the city crime free.
But, making any city crime free is tough task specially the law and order and the influence of the local goons is very high. Criminals across the city try their best to create problems for Naveen Sikhera at every step. Do watch this web series for some gripping story and dialogues.
Bhaukaal season 2 is yet to release as there will be new characters and story.
#5 Damaged
Genre – Crime, Suspense
Total Seasons – 2
IMDB Rating – 5.9
Damaged is Hungama's first original web series but you can watch it on MX Player. Damaged is India's first web series about female serial killer. Damaged is psychological crime drama directed by Aarambhh M Singh.
Damaged is about Lovina played by Amruta Khanvilkar who seems as an ordinary women but very dangerous. Amit Sial is also seen in this web series played the role of Abhay who investigate the murder cases which connected with Lovina. Yes, Lovina is the mystery for boys in this web series where boys easily fall in love with her and then suddenly murdered brutally. The race and battle between murderer and the cops was interesting to see in this web series.
Damaged has season 2 as well with different cast.
#6 Ek thi Begum
Genre – Crime, Drama
Total Seasons – 1
IMDB Rating – 6.8
Ek thi Begum web series is based on Mumbai Underworld and it is based on S Hussain Zaidi's Mafia Queens of Mumbai. Ek thi Begum Story revolves around Ashraf whose gangster husband was killed by rival gang. After this Ashraf swore to revenge which was not only towards her husband's killers but also the partners involved in it, police and main boss who lived in Dubai.
Ek thi Begum shows the transformation of shy women to ruthless criminal beautifully. Ashraf takes down her enemy one by one and was achieving the goal to take revenge on everyone. The primary cast includes Anuja Sathe, Rajendra Shisatkar, Ankit Mohan, Vivek Aapte, Anjali Banerjee among others.
#7 High
Genre – Crime, Drama, Thriller
Total Seasons – 1
IMDB Rating – 8.2
High is MX Original Web Series and based on drugs. High web series launched when the drug usage news in Bollywood was at its peak. High may have got some attention to this news and gets some good views as well.
High web series story is based on the drug addict who is trying to get rid of his drug addiction. While getting rid of his drug habit he found new discovery by the doctor who was treating him. This new drug is new green pill that kills the dependency on drug. This new drug shaken other drug dealers and peddlers and slowly its demand increased.
After this green pill illegal drug market gets the attention and tries to eliminate Shiv Mathur who product and sells this drug pills to the market. High is based on some interesting subject and story and viewers are loving this hindi web series.
#8 Naked
Genre – Drama, Thriller
Total Seasons – 1
IMDB Rating – 4.5
Naked web series was produced by brilliant film maker Vikram Bhatt who is known for his crime, suspense and thriller content. Vikram Bhatt earlier made some good films including 1920 and Raaz 3.
Naked is also based on Murder Mystery story where hotelier Rishabh Mehta found murdered and the prime suspect was Natasha Kamra who is also famous blue film star by profession. An honest cop Suraj Kadam begins the investigating on this case and the question raises is Natasha Kamra a seductive killer or innocent victim?
This web series gets boring in between due to some poor acting by the actors but the story will allow you to finish the series.
#9 Cheesecake
Genre – Comedy, Drama, Romance
Total Seasons – 1
IMDB Rating – 8.5
Cheesecake is light-hearted Indian hindi web series starring Jitendra Kumar aka Jeetu Bhaiya and Akanksha Thakur in leading roles. Cheesecake story is revolved around couple who married for quite some time now and it's not going well and both are blames on their work.
The hope of their love was gone and their relationship was shackling but at the same time one lost golden retriever walks into their life. Cheesecake shows how one dog brings couple together and creates the lost love between them. Cheesecake is not just a story or web series but a message and lesson to everyone who hates dog and animals. In trailer you can listen one line which says "Animals are very sensitive" and it's true.
Best Indian Hindi Web Series on Disney+ HotStar
#1 Criminal Justice
Genre – Crime, Drama, Mystery
Total Seasons – 1
IMDB Rating – 8.1
Pankaj Tripathi is clearly the king of Indian Web Series as he featured in some top quality series including Mirzapur, Sacred Games and Criminal Justice. Criminal Justice is directed by Tigmanshu Dhulia and Vishal Furia starring some brilliant actors Pankaj Tripathi, Vikrant Massey and Jackie Shroff.
Criminal Justice is based on Aditya (Vikrant Massey) who is a cab driver and had one night stand with his passenger Sanaya but when after waking up he found that Sanaya was murdered. Sanaya had multiple stab wounds and Aditya was in pool of her blood. He quickly leaves the crime scene and involves in accident and later he was charged with rape and murder case of Sanaya.
Pankaj Tripathi was shown interest to fight his case but somehow other lawyer got this case and freed him from rape charges but acquitted in murder charge. Pankaj Tripathi tried to find some clues and followed the case to freed Aditya.
Criminal Justice web series also shows the real life in prison where some gangs fights with each other and get hands on new prisoners. If you like to see some thrilling crime web series then do watch Criminal Justice.
#2 Criminal Justice: Behind Closed Doors
Genre – Crime, Legal Drama
Total Seasons – 1
IMDB Rating – 7.4
Technically Criminal Justice: Behind Closed doors is sequal of Criminal Justice part 1 but the story is not connected with each other thus we are listing this web series as new web series.
Criminal Justice: Behind Closed Doors is crime and legal drama series starring most versatile actor Pankaj Tripathi, Kirti Kulhari and Jisshu Sengupta. In this hindi web series Kirti Kulhari is wife (Anuradha Chandra) of Jisshu Sengupta (Bikram Chandra).
During night Anuradha Chandra stabs her husband Bikram Chandra in their bedroom and later she confessed her crime in front of police and court. This is clearly open and shut case as per the police officers but criminal can also hire lawyer to plead not guilty.
Pankaj Tripathi then enters in the show as Anuradha Chandra's lawyer and opens all card one by one. While examining this case in detail he finds some shocking truth about the Bikram Chandra.
Few viewers may find this web series little slow due to lenghty episodes. Creators could have finished this web series in less episodes.
#3 Special Ops
Genre – Action, Thriller
Total Seasons – 1
IMDB Rating – 8.6
No one can beat Neeraj Pandey when it comes to create thriller content. Most of Indian web series is based on life of an agent from Intelligence Agency whether it's The Family Man, Bard of Blood or Special Ops. In Special Ops Kay Kay menon is playing the lead role of Himmat Singh who is high level officer in RAW.
Special Ops story is based on the Nineteen Years of nationally significant events which includes several spying missions taken by India in the last two decades. In Special Ops Himmat Singh finds the similar pattern behind all the terrorist attack and realized that one single person is behind this attack.
Himmat singh then forms his 5 agent's team on various parts of the world to catch the master mind. Special Ops shows the real life story about how one spying mission happens at upper level and how different agents throws their life in danger to catch the criminal mastermind.
#4 Out of Love
Genre – Thriller
Total Seasons – 1
IMDB Rating – 7.1
Out of Love Hindi Web Series was based on British Drama Doctor Foster and is directed by Tigmanshu Dhulia and Aijaz Khan. Out of Love star cast includes some good actors including Rasika Dugal and Purab Kohli.
Out of Love story revolves around couple Meera and Akarsh who are happily married but one day Meera found hair on Akarsh's Scarf. After this incident Meera was obsessed with finding out Akarsh's mistress. Out of Love shows how meera tracks down Akarsh's affair and discover his lies about his affair with much younger woman Alia. Watch this web series for some good acting and story.
#5 Hostages
Genre – Mystery, Thriller
Total Seasons – 2
IMDB Rating – 6.8
Hostages season 1 was huge success and recently Disney+ Hotstar released the second season and getting some good appreciation. Hostages is directed by veteran director Sudhir Mishra (Season 1) and Sachin Krishn ( Season 2). Hostages web series is an official adaptation of an Israeli series of the same name.
Hostages star cast includes Ronit Roy, Tisca Chopra, Mohan Kapoor, Parvin Dabas and Aashim Gulati.
In Hostages season 1 Surgeon Dr. Mira Anand (Tisca Chopra) was performing operation on chief minister but the night before the operation her family was taken as hostages and she was ordered to assassinate the chief minister in return of her family safety.
We won't reveal the story of second season because it's connected with season 1. Lately Disney+ Hotstar is producing some good web series content.
#6 City of Dreams
Genre – Thriller
Total Seasons – 1
IMDB Rating – 7.6
City of Dreams is directed by Nagesh Kukunoor and has some veteran actors like Atul Kulkarni and Sachin Pilgaonkar. City of Dreams story revolves around Gaikwad family in which Atul Kulkarni played the role of Amey Rao Gaikwad. Amey Rao Gaikwad is Mumbai's most polarizing political figure on whom one assassination attempt happens.
After this attempt there was a feud in Gaikwad family about who will take his position. Both brother and sister fights for his position and store revolves around it. If you really like to see some political drama then does watch this web series.
#7 Aarya
Genre – Crime, Drama, Thriller
Total Seasons – 1
IMDB Rating – 7.9
Aarya was one of the most talked hindi web series of year 2020 because of the return of Sushmita Sen. Aarya web series is based on Dutch drama series named Penoza.
Aarya is story about four member's happy family in which the husband of Aarya (Sushmita Sen) is Tej Sareen (Chandrachur Singh) is pharma baron who sells illegal medicines in international market through his pharma company. Tej was an ideal husband and good dad at home but soon turns out that he was murdered by masked man.
After this incidence Arya took the pledge to catch the murderer of her husband and upon digging into it she found her husband and other two associates involved in some illegal stuff. Aarya web series has so many ups and down but Sushmita Sen steals the show with her acting.
#8 The Legend of Hanuman
The Legend of Hanuman is by far one of the best hindi web series of 2021. Season 1 of The Legend of Hanuman released on HotStar this year and received positive feedback from all the viewers and critics all around the world. The Legend of Hanuman is Fantasy animation web series created by Sharad Devarajan, Jeevan J. Kang and Charuvi Agrawal for Hotstar.
This web series is based on Lord Hanuman's life and how he transformed from a very powerful kid to mighty warrior and then to God. Many of people do know about Lord Hanuman but have very limited knowledge about his life and background. This series is purely dedication to Lord Hanuman and separate from Ramayana. Yes, there are many instances added from Ramayana in this web series but creators mainly focused on Lord Hanuman's story rather the complete Ramayana.
First season of The Legend of Hanuman has total 13 episodes and each episode has some wonderful story and character building scenes. Background music score, voice artists and the animation is mind blowing. Story of The Legend of Hanuman will make sure that you finish the season at one go without the stop. Don't skip or forward any scene of this web series because you will miss some important learning.
We haven't receive any news or update on The Legend of Hanuman season 2. We will post the release date of The Legend of Hanuman season 2 here.
Best TVF Hindi Web Series
TVF changed the course of the game by launching the Pitchers. Indian Millennial loved the first season of the Pitchers and their expectations went sky high for other web series. Let's see some of the best web series to watch on TVF Play.
#1 Kota Factory (2019)
Genre – Drama, Comedy
Total Seasons – 1
IMDB Rating – 9
Kota Factory was released in 2019 which was directed by Raghav Subbu for The Viral Fever (Full form of TVF). Kota Factory was the first black & white web series in India which was also an exciting factor amongst the Indians. Kota Factory web series is based on the life of students in the city named Kota in Rajasthan which is a hub of many prominent coaching centers and students all across India comes to this city to prepare for various entrance exams.
Kota Factory season has only 5 episodes but it will show you the perspective about the education hub Kota and how students prepares for IIT entrance over there. If you are student then you should definitely watch this web series.
#2 TVF Pitchers (2015)
Genre – Drama, Comedy
Total Seasons – 1
IMDB Rating – 9.1
TVF Pitchers was released in 2015 when there was no popularity of Web Series in India. TVF actually played wisely while releasing the Pitchers. They have released first few episodes on YouTube which created the Hype amongst the audience and remaining episodes they launched on their app so, they can create user base as well. Smart marketing strategy we must say.
In TVF Pitchers each and every character's role was epic. In this web series Arunabh Kumar also played the vital role who is the founder of The Viral Fever. Apart from him other cast includes Naveen Kasturia, Jitendra Kumar and Abhay Mahajan.
TVF Pitchers is all about the entrepreneurship and it was released at the time when start-up culture in India was building. In this series 4 friends which has established job in the corporate world and earning hefty amount but to launch their own start-up they left their jobs and start building their product.
TVF Pitchers shows the reality of start-up culture where entrepreneurs struggle to get fund from the ventures and other individuals and how they manages the failure before rises up. If you are connected with the start-up world or corporate culture then do watch TVF pitchers as it won't disappoint you. It's been 5 years since the release of TVF pitchers and we fans still waiting for the season 2 to know about their product which they are pitching in every start-up event.
#3 Permanent Roommates (2014)
Genre – Comedy, Romance
Total Seasons – 2
IMDB – 8.6
Permanent Roommates was released back in 2014 and it was based on a couple who was in long distance relationship and decided to live together. If you seen some clips of this Web Series on social media then you will realize how well the chemistry between Mikesh and Tanya. Sumeet Vyas has played the role of Mikesh in this web series where Tanya's role was played by Nidhi Singh.
Mikesh returned to India to marry with Tanya but due to some circumstances they opted to move and live together first and the drama begins. This web series was written by very talented writer Biswapati Sarkar who was also the writer of TVF Pitchers.
This is India's first ever web series. First season of Permanent Roommates directly launched on YouTube where as second season was launched on TVF Play OTT Platform.
#4 TVF Tripling (2016)
Genre – Drama
Total Seasons – 2
IMDB – 8.5
TVF has some very good content development team as they launched so many good quality web series over the years. One more common thing with TVF is that they repeat their actors in other web series as well. Sumeet Vyas who played Mikesh's character in Permanent Roommates was also the leading actor in Tripling as well.
TVF Tripling is story of 3 siblings Chandan, Chanchal and Chitvan and each sibling is quite interesting. Chandan returns from the US after broken marriage and losing a job meets his brother Chitvan and they both then went to meet their sister Chanchal. The bond between siblings is not that great but internally they love each other. All 3 then go to an unplanned trip to meet their parents and then the adventurous journey begins. Chitvan's character was played by Amol Parashar and was the main highlight of this series.
#5 Yeh Meri Family (2018)
Genre – Comedy, Drama, Family
Total Seasons – 1
IMDB – 9.2
If you are 90's kids and want to experience the nostalgic ride then must watch Yeh Meri Family. This Web Series will take you back to 90's or early 00's when you were enjoying Shaktimaan, Fights over Comic books, Afternoon Cricket, Crush from School, Walkmen music, Epic hairstyles and many more things. Performance from each and every cast member was joyful. One clip from this Web Series went viral when Akarsh Khurana goes to play ground to play one ball in the match and hits the six on which all kids shocked and enjoyed the moment.
In Yeh Meri Family other cast includes Mona Singh, Vishesh Bansal who played the main role of Harshu (Kid) who balances school, family, friendship and other important challenges while growing up. In this series many scenes are too emotional and can remember for long period time. If you want to feel relaxed in this high speed life then do watch this series.
#6 Flames (2018)
Genre – Comedy, Drama, Romance
Total Seasons – 2
IMDB – 9.2
Flames is one of the highly rated web series on IMDB. TVF is not known for making thriller, suspense or action web series but their content is revolves around romance, drama and comedy.
Flames web series is all about teenage love and romance. Class topper Rajat falls for new girl in chemistry tuition named Ishita. Rajat's character was played by Ritwik Sahore where as Ishita's role was played by Sunakshi Grover. Flames was made by The Timeliners and is available both on TVF Play and MX Player.
If you want to experience some fresh story on friendship and teenage love then do watch this series. Flames will take you back to your teenage period when you falls into love with girl and remembers each and every moment with them.
#7 Fathers
Genre – Comedy
Total Seasons – 2
IMDB – 7.4
TVF Fathers is one of the most underrated Indian Hindi web series which everyone should watch. Fathers is the mini TV series with 12-15 minutes episodes in both the season. Fathers is the story of 3 fathers who breaks the stereotype against taking risky decision and start their own start up, trying to catch up the millennial and how they enjoys their personal space by throwing the disco party.
Fathers have 2 seasons and in both the seasons fathers role played by different actors. In first season Fathers role was played by Gajraj Rao, Brijendra Kala and Atul Srivastava where as in second season Fathers role was played by Rakesh Bedi, Manoj Joshi and Vijendra Saxena. If you have limited time and quickly want to finish the web series then do watch this.
Best Indian Hindi Web Series on Sony Liv
#1 Scam 1992
Genre – Biography, Crime, Drama
Total Seasons – 1
IMDB Rating – 9.5
Scam 1992 is by far one of the most popular and highest rated Web series on IMDB in 2020. Scam 1992 is appreciated by viewers, critics and everyone who watched it. Scam 1992 hindi web series is based on stockbroker Harshad Mehta who did stock market scam in early 90's. Scam 1992 is adapted from finance journalist Sucheta Dalal and Debashish Babu's 1993 book The Scam: Who won, who lost, who got away. Scam 1992 is directed by Hansal Mehta and Jay Mehta.
In Scam 1992 Pratik Gandhi has played the main role of Harshad Mehta where as Sucheta Dalal's role was played by Shreya Dhanwanthary. In whole Scam 1992 Hansal Mehta created the look of 90's so, everyone can feel that era. Their 90's era look based on the hair look, costumes, cars and the way Bombay looks that time.
In this web series director explained the stock market system in that era and who were the big bulls then. The rise of Harshad Mehta was displayed in this web series was commendable effort by the makers. The casting of this web series was on point and the music is still booming in ears. If you want to experience the real crime drama hindi web series then do watch Scam 1992. Last but not the least do watch this for Rajat Kapoor who played amazing role of K Madhavan who investigated this case from CBI.
#2 JL50
Genre – Drama, Sci-Fi, Thriller
Total Seasons – 1
IMDB Rating – 7.5
Sony Liv is clearly making it's way into streaming some quality web series this year. JL50 would be the first hindi web series based on time travel and believe me it will make you think about the quality of Indian content.
JL50 was written and directed by Shailender Vyas and he chose some brilliant actors for this mini hindi web series. In JL50 you will see Abhay Deol, Pankaj Kapoor and Piyush Mishra. As mentioned earlier JL50 sci-fi web series is based on Time Travel where Shantanu played by Abhay Deol is CBI officer and leads investigation on a plane crash happened in West Bengal.
During the investigation Shantanu and his team finds out that the crashed plane is JL50 which went missing 35 years ago. In the crashed plane 2 survivors were alive and upon investigating their back stories Shantanu tried to connect some dots. JL50 is a mini web series and little slow at times – due to lack of suspense and thrilling background music you may find it boring.
#3 Your Honor
Genre – Action
Total Seasons – 1
IMDB Rating – 7.3
Jimmy Shergil is one of the most talented and underrated actor in Bollywood who always impress his fans and viewers by his work. In Your Honor Jimmy Shergil is playing the role of circuit court judge from Ludhiana. Jimmy Shergil (Judge Bishan) loses his sense of judgment and honor to law when his only son gets involved in Hit and Run case.
Accident victim was the son of gangster Satbir who is in jail swears the revenge on culprit. In Your Honor web series Judge bishan tries his best to save his son by forging the evidence plays with the system and law. Watch this series for the story and unconventional actors worked in it.
#4 Gullak
Genre – Comedy, Drama, Family
Total Seasons – 1
IMDB Rating – 9.1
Gullak is hindi name for Piggy bank if you don't know. In this Web Series Gullak is the narrator of the show which explains that Gullak is not a story but series of anecdotes of middle class family. Yes, Gullak resembles the story of each and every middle class family who doesn't talk too much with each other but love each other immensely.
Gullak is a story of Mishra family where mother Shanti (Geetanjali Kulkarni) always speaks with their son and husband by yelling and in some sarcastic tone like every mother does in family. Her husband Santosh played by Jameel khan is employee of the local division board and always remains calm in tough situations.
In Mishras family older son, Annu (Vaibhav Raj Gupta), is 22 years old and currently unemployed who hoping to crack Staff Selection Commission exams. Second young child of this family is Aman who goes to school and is partner-in-crime and arch-enemy of his brother.
If you really want to enjoy some good and gently humor web series then do watch Gullak.
#5 Undekhi
Genre – Crime
Total Seasons – 1
IMDB Rating – 8.1
Undekhi is terrific crime thriller web series which was inspired on real life events. In the first 30 minutes of this web series you will get to see 2 murders at different location. First murder of a policeman happened in Sunderban and his mutilated body found in the forest. Whereas second murder was of a girl who killed in a wedding and how rich and powerful people tries to cover it even though it was recorded on camera.
Each and every character of this show delivers the best performance. Some crime and thriller content deserves good audience and Undekhi web series is one of them.
#6 Avrodh
Genre – Action
Total Seasons – 1
IMDB Rating – 7.5
If you loved URI – Surgical Strike movie then you will definitely love Avrodh web series. Avrodh hindi web series is fictionalised retelling of URI attach which happened in 2016 followed by the surgical strike of Indian Army. Avrodh is based on the India's Most Fearless book by Shiv Aroor and Rahul Singh.
Avrodh has some amazing and brilliant cast includes Amit Sadh, Neeraj Kabi, Darshan Kumar, Vikram Gokhale, Anant Mahadevan and Madhurima Tuli. Avrodh web series has 9 episodes in which first 7 episodes show the planning of the surgical strike while last 2 episodes shows how surgical strike happened. Surgical Strike didn't happened overnight but it was planned from the highest level of government members and top army officers. It was considered as the most secret mission ever happened by Indian Army.
Amit Sadh played his role as Major Videep Singh is up to the mark. Do watch this web series if you like to see how Indian Army plans their mission and execute it.
Best Indian Hindi Web Series on Zee5
#1 The Final Call
Genre – Drama, Thriller
Total Seasons – 1
IMDB Rating – 7.2
The Final Call hindi web series is based on 2015 Novel I Will Go With You by Priya Kumar. The Final Call has pretty good star cast including Arjun Rampal, Neeraj Kabi, Sakshi Tanwar, Harshad Arora' Anupriya Goenka & Javed Jaffrey.
The Final Call web series story revolves around the passengers of a flight from Mumbai to Sydney when suddenly the captain of the flight decides to commit suicide on board. After this incident all passenger's life gets endangered and the panic amongst them is the real output of this web series.
#2 Rangbaaz
Genre – Action, Biography, Crime
Total Seasons – 2
IMDB Rating – 8.4
Many Indian hindi web series story based on gangsters and specially from Uttar Pradesh just like Mirzapur and Bhaukaal. Rangbaaz web series is based on true story which takes us to 1990's where Shri Prakash Shukla was a notorious gangster and most wanted criminal of Gorakhpur, Uttar Pradesh.
Rangbaaz shows the journey of this gangster and how DDU student became the 2nd most wanted criminal in India. Rangbaaz is crime and thriller web series and has some pretty good scenes and story which you will like.
#3 Kaafir
Genre – Drama, Thriller
Total Seasons – 1
IMDB Rating – 8.4
Kaafir is one of the most underrated web series in India which everyone should watch. Kaafir has 8.4 IMDB ratings and star cast includes amazing actress Dia Mirza and very talented Mohit Raina. Kaafir is story about Kainaaz Akhtar women from Pakistan Administered Kashmir who comes to Indian side of Line of Control and captured by Indian military and held as prisoner under the suspicion of a militant.
Kainaaz also gave birth to her daughter while spending her 7 years in imprisonment. Both Kainaaz and her daughter then helped by an Indian Journalist who worked hard to give justice to Kainaaz. If you want to see some fabulous locations and amazing acting then do watch Kaafir.
#4 Abhay
Genre – Crime, Thriller
Total Seasons – 2
IMDB Rating – 8
Abhay is Zee5 original hindi web series starring Kunal Khemu. Abhay was the digital debut of bollywood actor Kunal Khemu and he did justice to his character. In this web series Abhay Pratap Singh is an investigating officer with the criminal mind and can go any extent to solve the case.
The first season is story about 2 kids who went missing from the school and Abhay tries his best to crack this case and save those 2 kids. 2nd Season of Abhay is more gripping and amazing as 2 antagonist's role played by Ram Kapoor and Chunky Pandey. If you want to enjoy some thriller Indian web series then do watch Abhay.
#5 Zero KMs
Genre – Action
Total Seasons – 1
IMDB Rating – 8.3
Zero KMs is story about the crime happens in coastal state Goa starring Tanmay Dhanania and Naseeruddin Shah. The story of Zero KMs is revolves around Arjun Aka Diego whose father is a police officer and diego sent to jail for 10 years for the crime he never committed. While in prison he was trained in combat by veteran actor Naseeruddin Shah.
Zero KMs is story about human trafficking happens in Goa. Zero KMs do have good reviews on IMDB but it's just another web series which defames the state Goa. If you have paid subscription of Zee5 then only watch Zero KMs.
Best Indian Hindi Web Series on AltBalaji
#1 Apharan
Genre – Action, Thriller
Total Seasons – 1
IMDB Rating – 8.3
Apharan web series released when Indian audience was going gaga on crime and thriller web series like Sacred Games and Mirzapur. Apharan was accepted as well by critics and audience and till date it's one of the best web series on AltBalaji.
Story of Apharan revolves around kidnapping and it was set in Uttarakhand. Apharan has some good star cast including Arunoday Singh, Nidhi Singh and Mahie Gill. Each and every character in this web series has done justice to their role. Few of the scenes of this web series became instant hit on social media which drive so much traffic.
#2 Bose: Dead or Alive
Genre – Biography, History, Mystery
Total Seasons – 1
IMDB Rating – 8.9
Bose is historic period drama hindi web series by AltBalaji which received many awards at IWM Digital Awards and DigiXX Awards. Bose web series is based on Indian Freedom Fighter Netaji Subhash Chandra Bose and his role played by critically acclaimed actor Raj Kumar Rao.
Bose web series is directed by Pulkit and he did some amazing research work while making this web series. Each and every episode shows the mysterious life of Bose and has some thrill in it which makes audience engage with the web series.
#3 Gandii Baat
Genre – Crime, Drama Thriller
Total Seasons – 5
IMDB Rating – 3.5
Gandii Baat web series is one of the most popular erotic hindi web series which opened the door for other platforms to launch the similar kind of web series like ULLU. Gandii Baat episodes based on fictional erotic tales of rural hamlet of India. Each episode has some good dirty talks and erotic scenes which loved by the audience.
Till now Gandii baat has 5 seasons and each episode will give you some erotic fictional story and visuals. If you are looking for some story based web series then don't watch this and yes never open this series in front of family.
#4 Romil & Jugal
Genre – Drama, Romance
Total Seasons – 1
IMDB Rating – 7.8
In recent times there has been lot of talks on same sex marriage and LGBTQ in India. AltBalaji produced Romil & Jugal at the right time when the topic was hot and amongst the mind of Indian audience. Romil & Jugal web series is about the gay love story of 2 boys who trying to break all stereotypes of Indian Society.
#5 The Test Case
Genre – Action, Drama
Total Seasons – 1
IMDB Rating – 8.5
Each and every OTT platform must have one web series based on Patriotic theme and The Test Case is amongst them. The Test Case revolves around the time when in 2016 India opened the combat roles in Military for women. The Test Case web series is starring Nimrat Kaur who added into combat roles in Indian Army as a test case.
The Test Case web series shows how women faces the challenges during the training for combat roles in Indian Military. Gunjan Saxena movie was also released in 2020 having similar plot but for Indian Air Force. If you really want to see some series based on Women Empowerment then do watch The Test Case.
#6 Baarish
Genre – Romance
Total Seasons – 1
IMDB Rating – 8.6
Baarish web series is underrated series available on AltBalaji. Baarish is story about the millionaire Gujarati businessman Anuj (Sharman Joshi) and Marathi girl Gauravi (Asha Negi). Anuj quits his studies to take case of siblings and family after the demise of his father. Anuj builds his own empire Mehta Diamonds from scratch where Gauravi also works.
Anuj saved Gauravi from conspiracy in an exhibition and both comes close to each other. Due to some circumstances both Anuj and Gauravi's families arranged their marriage and gradually they fall in love.
Best Hindi Web Series on Voot
#1 Asur
Genre – Crime, Drama, Thriller
Total Seasons – 1
IMDB Rating – 8.4
Asur was one of the best quality hindi web series of 2020 without any doubt. Asur series sets in wonderful and one of the oldest city Varanasi, UP. Asur web series is starring Nikhil Nair who was a forensic expert and now turned it to teacher and working in the USA. Nikhil doesn't like to work as a teacher and returns to the CBI and works with his former mentor Dhananjay Rajpoot played by Arshad Warsi.
Dhananjay rajpoot was on a case of brutal murder and trying to catch the serial killer who does this murders based on some mythology aspects and not a single victim was connected. Asur is one of the highest rated hindi web series on IMDB. Later Nikhil Nair also joins the case and clash happens with Dhananjay Rajpoot. Asur is full of suspense, crime and drama which viewers will love to watch.