Content driven movies in Bollywood often done well in past decade or so, but that doesn't mean Bollywood never created this kind of movies in past. In recent years low budget crime, thriller and suspense movies have done really well at box office rather high budget movies.
Andhadhun will be the prime example of low budget and content driven movie success of Bollywood. Fans & viewers now tilted towards story base thriller movies rather big budget drama and romance movies. It doesn't mean that superstars are not opting for small budget movies and Drishyam is best example of it where Ajay Devgan did an amazing job.
Here, we represent best Bollywood Thriller movies of all time having good content, story and good cast. In this list of Suspense, Thriller and Mystery movies have few names which you may never heard in your life time. Let's see how many Bollywood Thriller movies you have watched so far from the given list.
This movies list represents below Genre
Bollywood Thriller Movies
Bollywood Crime Movies
Bollywood Suspense Movies
Bollywood Mystery Movies
Bollywood Detective Movies
Best Bollywood Thriller, Suspense & Mystery Movies of All Time
Firstly, we will discuss the best Bollywood Thriller movies of all time. This list will make you start thinking about Bollywood differently. Few of the movies are already big hit and you may have watched them several times where as few of the movies are still considered as Underrated and didn't do well at the Box office.
Gangs of Wasseypur (Part – 1) – 2012

IMDB Rating – 8.2
Available – Netflix
Recently in September Gangs of Wasseypur declared as one of the best movie of 21st Century by The Guardian. Gangs of Wasseypur was the only Bollywood movie in that list, so you can think how amazing movie it was. Gangs of Wasseypur is one of the best Bollywood thriller movie of all time directed by very talented Anurag Kashyap.
Gangs of Wasseypur movie was released in 2012 starring amazing actors like Manoj Bajpayee, Tigmanshu Dhulia, Piyush Mishra, Richa Chadda, Huma Qureshi, Pankaj Tripathi and Nawazuddin Siddiqui. This movie became instant hit due to it's songs, dialogue and acting. Gangs of Wasseypur movie story was written by Zeishan Quadri.
This movie tool place in Wasseypur and Dhanbad and it has several years of journey from 1940's to 1990's. It shows how Gang wars take place due to various businesses earning hell of money. Budget of this movie was only 9.2 Crores but earned whopping 28 Crores. Gangs of Wasseypur made few actors instantly super stars including Nawazuddin and Pankaj Tripathi. Story of this movie was so long which forced Anurag Kashyap to make 2nd part of the movie which was even bigger hit than the first part. Gangs of Wasseypur – Part 1 movie available online at YouTube.
Gangs of Wasseypur (Part – 2) – 2012

Netflix – 8.2
Available – Netflix
As mentioned above Gangs of Wasseypur movie made in 2 parts. The movie's length is 319 minutes and no Indian theatre allows to run 5 hours movie in the theatre thus Anurag Kashyap had to make 2 part of this movie.
The second installment of this movie release immediately after the first part so, this will remain fresh in viewer's mind. Anurag Kashyap screened this movie as a single part in the Cannes Director's fortnight festival.
Both movie made big numbers at Box Office and earned around 34 Crores and became of the best thriller and crime movie of 21st century ever. If you haven't watched this movie then do watch it right now. Gangs of Wasseypur – Part 2 movie available online at YouTube.
Badlapur – 2015

Netflix – 7.4
Available – Amazon Prime
If you ever create your own list of favorite Bollywood Thriller movies the movies from Sriram Raghvan will be there for sure. Badlapur movie was directed by one of the best thriller movie director Sriram Raghvan starring Nawazuddin Siddiqui and Varun Dhawan. Varun Dhawan played role of Raghu in this movie where he loses his wife and son after becoming a victims of a bank robbery and Nawazuddin killed them. Then Raghu decided to take the revenge and waited for long once the Nawaz freed from the jail.
The movie has lots of ups and downs and the acting of all the actors in this movie was up to the mark. Budget of Badlapur movie was 16 crore and earned 79 crores at the box office. If you are a true fan of Bollwood thriller movies and dark acting then you should watch this movie at any cost. Badlapur movie was released in 2015 but it's still fresh in viewers mind. Critics also gave this movie very good positive reviews.
A Wednesday – 2008

Netflix – 8.1
Available – Netflix
A Wednesday movie was released in 2008 directed by Neeraj Pandey and became one of the most Bollywood Thriller movies of all time. Starcast of A Wednesday movie was also super hit starring Anupam Kher, Naseeruddin Shah, Jimmy Shergil and Aamir Bashir.
In this movie Anupam Kher was about to retire as a Police Commissioner of Mumbai Police and narrating the story of his most complex case. I don't want to make any spoiler here but you should watch this best bollywood thriller movie straight away. A Wednesday was very small budget movie but got instant success due to positive word-of-mouth and critic reviews.
Many film industries adapted this subject later and made remake of this movie as well. This movie is an inspiration for Tamil Movie Unnaipol Oruvan, Telugu Movie Eeenadu and also a Hollywood movie A Common Man starring Ben Kingslay.
Talvar – 2015

Netflix – 8.2
Available – Disney Hotstar+
If you are slightly aware of Aarushi Case then this movie will make you know more about the mystery. Talvar movie is based on 2008 Noida Double case of teenage girl Aarushi and family's servant.
Talvar movie was written by Vishal Bhardwaj and directed by Meghna Gulzar. Star cast of this movie is also very impressive including Neeraj Kabi and Konkona Sen Sharma who played the parent's role of teenage girl Aarushi. Irrfan khan is playing the role of investigation officer. Vishal Bhardwaj written the story of this movie after meeting several police officials investigating the case and later met Meghna to expressed the desire to produce this movie with her.
After the Talvar movie Meghna Gulzar made the Raazi movie and ready to release Chhapaak movie soon. Irrfan Khan played a gem of a role in this movie along with Neeraj Kabi. This movie shows how eye witnesses play the important role and can also manipulate the case easily. Talvar movie is available on Netflix.
Kahaani – 2012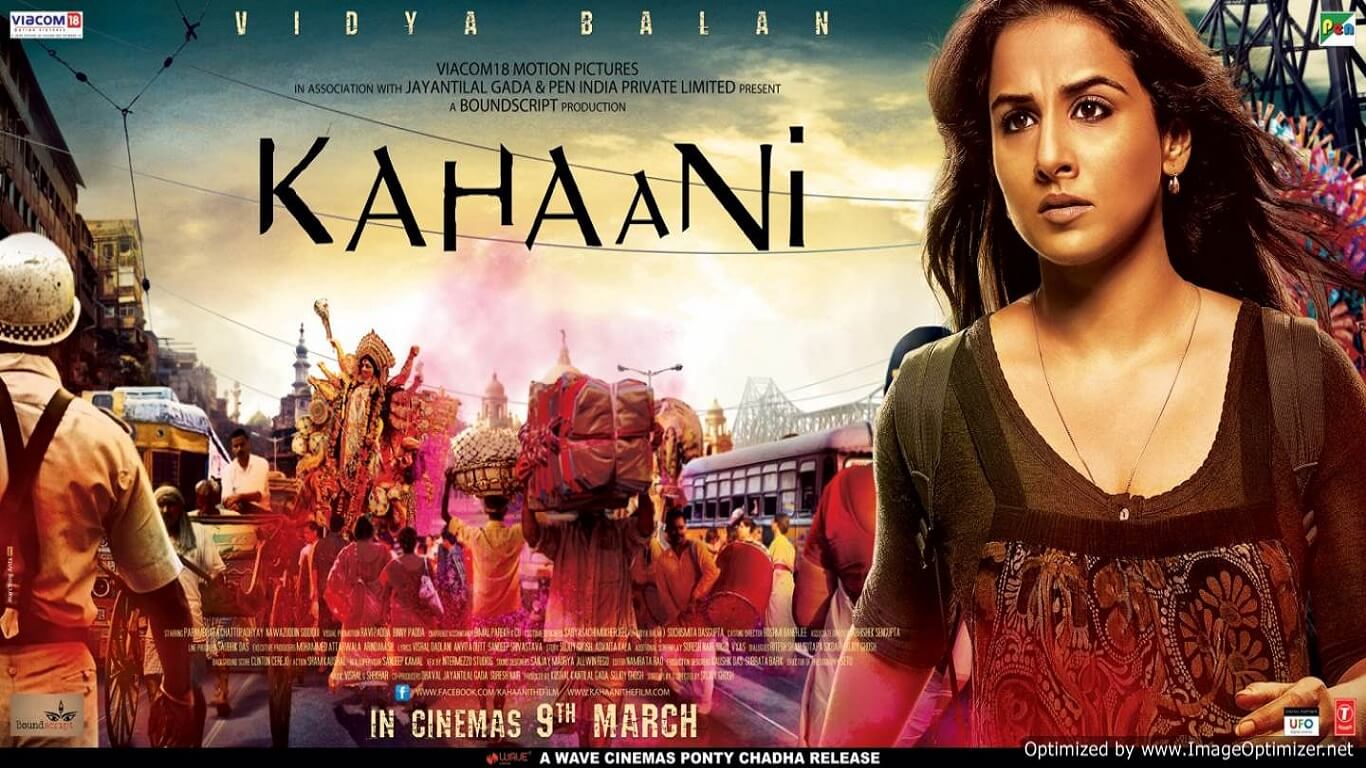 Netflix – 8.1
Available – Netflix
Kahaani is one of the most successful Bollywood suspense and thriller movies of all time. This movie has full of suspense and thriller from start to finish. Vidya Balan and Nawazuddin Siddiqui played the main role in this movie.
Saswata Chatterjee played the killer role in Kahaani movie and totally nailed his role with his amazing acting and thriller look. Sujoy Ghosh directed and produced this amazing thrilled bollywood movie and it became instant hit with the help of word of mouth and positive critic review.
Vidya Balan's acting was intense in Kahaani movie and still considered as one of the best leading female role ever in the history of Bollywood. If you want to witness the real Kolkata city then you should definitely watch this movie straight away. Kahaani movie is available on Netflix.
Drishyam – 2015

Netflix – 8.2
Available – Disney Hotstar+
Drishyam Movie is the remake of Malayalam movie (With same name) released in 2015 starring Ajay Devgan, Tabu & Shriya Saran. Drishyam Movie was the intense thriller, suspense and mystery movie ever released in the Bollywood. There are more remake of original Drishyam movie made in several film industries of India.
Main plot of the movie where daughter of Vijay Salagaokar (Ajay Devgan) went to the nature camp and son of Tabu named Sam recorded Anju while changing the clothes and later asked for se**al favor but somehow Ajay Devgan's wife found this and later killed him unintentionally. Ajay Devgn protected the family by hiding the body and made up story which depicts that they don't killed the Sam and don't know anything about him. Budget of this movie was 62 crore and earned decent amount at the box office. Drishyam movie is available on Hotstar.
Table No 21 – 2013

Netflix – 7.1
Available – YouTube
Table No 21 movie is one of the most underrated thriller movie of Bollywood released in 2013 starring Rajeev Khandelwal, Tina Desai and Paresh Rawal. In this movie Rajeev and Tina won the couple trip to Fiji with hotel accommodation and fine dinners.
During this they meet the Mr. Khan played the role by Paresh Rawal where he invited them to the game called Table No 21 and chance to win the 210 Million prize money. In this game they need to answer 8 personal questions and give answers truthfully followed by one tasks. Earlier tasks were easy for the couple but as the game progresses the tasks became difficult and the last task was to kill an individual.
Well, here I don't want to reveal the climax because it was too disturbing while I watch the movie so, don't want to give the spoilers. This movie is based on ragging and how it affects the students for life time. This movie will give you the best thriller experience so, don't miss this movie and watch right away.
Ittefaq – 2017

Netflix – 7.2
Available – Netflix
Ittefaq movie was released in 2017 inspired from 1969 movie with the same name directed by Yash Chopra. Ittefaq movie has good star cast including Sidharth Malhotra, Sonakshi Sinha and Akshey Khanna.
In this movie Sidharth is the British writer of Indian descent and he was in Mumbai for the launch of his third book. Later he found out his publisher wife dead in the hotel room and flees from there and police were chasing him. He took a shelter at nearby apartment of Sonakshi Sinha. Sonakshi seen the police car outside and rushes for the help. Later police found the body of Sonakshi Sinha's lawyer husband besides Vikram at the apartment.
After this Akshey Khanna investigates this double case and story starts from there. Ittefaq earned the decent collection at box office and considered as underrated bollywood thriller movie. Ittefaq movie is available on Netflix so, go and watch straight away.
Andhadhun – 2018

Netflix – 8.3
Available – Netflix
Sriram Raghavan is the best when it comes to make best bollywood thriller movies. Sriram Raghavan made few wonderful bollywood suspense and thriller movies including Ek Hasina Thi, Johnny Gaddar, Agent Vinod and Badlapur.
In 2018 one of the best thriller, suspense and mystery movie released named Andhadhun starring Ayushmann Khurrana, Tabu and Radhika Apte. Andhadhun movie was inspired by the short French film L'Accordeur about blind pianist. Andhadhun movie is the biggest hit of the year 2018 and also won the national award for best actor performance.
Andhadhun movie has so much ups and down and the acting performance was brilliant by the lead actors in the movie. This movie never loose the grip from start to end and it's treat to watch the best thriller movie ever made. Andhadhun movie was the low budget bollywood movie with 32 crore only but earned 456 crore worldwide. Andhadhun movie did an amazing business in China. Andhadhun movie is available on Netflix.
Special 26
Special 26 is an Indian heist movie written and directed by Neeraj Pandey, and the movie was released in 2013. Special 26 movie is based on 1987 Opera House Heist where one group of fake CBI officers goes on income tax raid on one jewelry store. Special 26 movie has a fabulous star cast, including Akshay Kumar, Anupam Kher, Manoj Bajpayee, Kajal Aggarwal, Jimmy Sheirgill, and Divya Dutta.
Neeraj Pandey did a great job of displaying 90's Mumbai and that era on the big screen. This movie has plenty of heist scenes in different cities with twists and turns. There is some good suspense and mystery in Special 26, which you will enjoy for sure. Special 26 movie has some very good songs given by M.M. Kareem.
Karthik Calling Karthik
Karthik Calling Karthik is a Physiological thriller Bollywood movie written and directed by Vijay Lalwani, and it was released in 2010. Farhan Akhtar and Ritesh Sidhwani produced this movie under Excel Entertainment. Karthik Calling Karthik has some good star cast including Farhan Akhtar and Deepika Padukone in lead roles whereas other cast was Ram Kapoor, Vivan Bhatena, and Shefali Shah.
The main character in this film was Karthik played by Farhan Akhtar. Karthik is an introvert and always insulted by his boss and has a very terrible childhood as well. He has a very routine and boring life working at one construction company. One day he receives one phone call from one stranger who promised to change his life. He followed the instructions of that stranger on a daily basis and it improved his lifestyle as well. The true epic drama is the climax where all the mystery gets revealed. If you love to watch some thriller movie then do watch Karthik Calling Karthik.
Gupt: The Hidden Truth is a classic thriller movie released in 1997. This movie was directed by Rajiv Rai, starring Bobby Deol, Manisha Koirala, and Kajol in lead roles. This movie has an extraordinary extended cast including Raj Babbar, Om Puri, Kulbhushan Kharbanda, Paresh Rawal, Dalip Tahil and Prem Chopra. In the late 90's this movie got some real good attention due to its story and plot. Rajiv Rai managed to keep the audience at the edge of their seat throughout the movie.
Bobby Deol is playing the role of Sahil Sinha who is in love with Isha played by Kajol and wants to marry her. Raj Babbar was playing the role of Bobby's father and insisted him to marry a girl whom he handpicked but Bobby denied it which turned out into a huge argument. Later Raj Babbar was found dead and Bobby Deol was the prime suspect for murder gets arrested. The story has some good twists and turns which you will love for sure.

Kaun?

If any movie involves Ram Gopal Varma, Anurag Kashyap and Manoj Bajpayee, then you shouldn't miss that epic thriller and suspense movies. Kaun movie is directed by RGV and written by Anurag Kashyap starring Manoj Bajpayee, Urmila Matondkar and Sushant Singh.
Urmila Matondkar lives in her home and during one stormy night while talking to her mom over the phone she saw one announcement on television about serial killer. This serial killer is killing lots of people in the city and she gets scared. Soon after the call, one stranger pushed the doorbell and pleaded to enter in home. Soon the whole situation gets changed and the story gets extremely fast with lots of thrill and mystery around.
BluffMaster

BluffMaster is not a thriller movie but I can say it's one of the most underrated Bollywood suspense movies. Bluffmaster movie was released in 2005 starring Abhishek Bachchan, Riteish Deshmukh, Nana Patekar, Priyanka Chopra, Sanjay Mishra and Boman Irani.
Abhishek Bachchan is playing the role of a con artist in the movie. He is living a double life where his girlfriend thinks that he is an ordinary and honest guy doing a good job but in real life he is a bluff master. Soon after Priyanka Chopra discovers the truth and breaks the relationship. After such incidents Roy discovered that he has a brain tumor and his partner convince him to take part in one last master plan.
This movie has pretty good suspense and robbery scenes which viewers will love for sure.
So, these are the few amazing Bollywood thriller movies you should watch straight away. We will add more movies name in the list soon.