Diwali is nearby and each wife, mother, sister and everyone waiting to design beautiful rangoli outside their home. Rangoli is one type of art in Indian culture which draws inside and outside of home during any special occasion or festivals. Rangoli is known as different names in different part of country. It is known as Kolam in south india and as Alpona in west Bengal region. Rangoli can made with different things like rangoli powders, ground rice powder, flowers and diyas. Sometimes it takes hours to design rangoli because of the beautiful design. Some are expert in designing rangoli and some not but they still can try to design rangoli outside their home. There is also readymade paper available with pre designed holes in it where one can easily design rangoli in seconds. These rangoli brings the joy on face and people loves to see colorful rangoli in their house. During festivals like diwali people also visits others home to see their rangoli designs and posts later on social media like Facebook and Instagram. Here we present the easy rangoli designs and patterns for diwali to design at home.
Simple Rangoli Designs
On Diwali occasion people loved to do traditional and high quality rangoli designs but for that they need around 6 to 7 hours but due to celebration they may not have the time. For them simple rangoli designs are the perfect to draw on Diwali festival. These simple rangoli designs will take minimum of your time and will look beautiful in your house.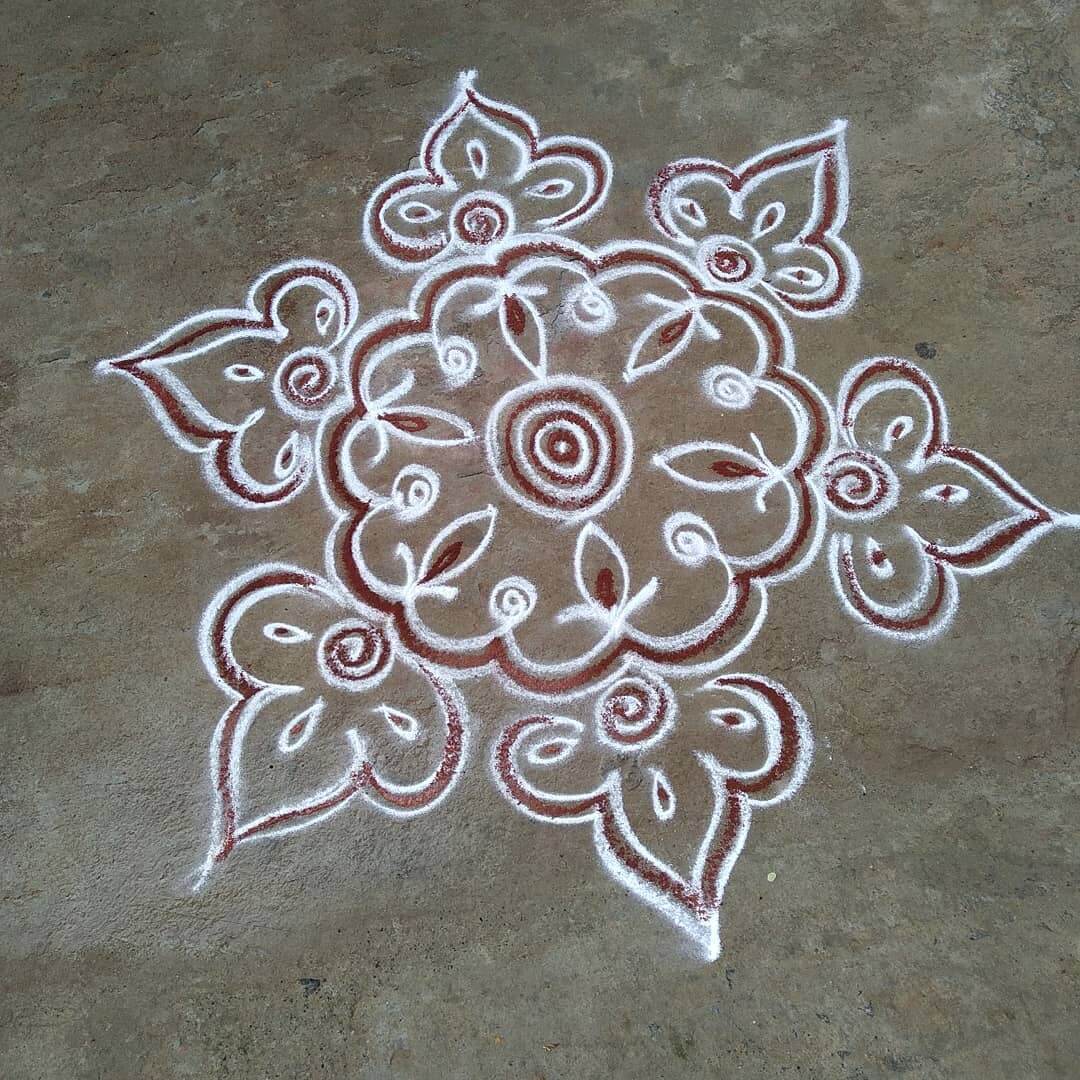 Easy Rangoli Designs
On Diwali Festival many of the elders of the house may get busy in some diwali preparations like sweets, decoration and house cleaning process. So, due to all this stuff they may not get the time to draw easy rangoli designs in their home. Here are some of the easy rangoli designs which can even draw by the kids. Yes, if you have kids at home and they are interested to help family members by doing something then they can easily do these easy rangoli designs with beautiful colors.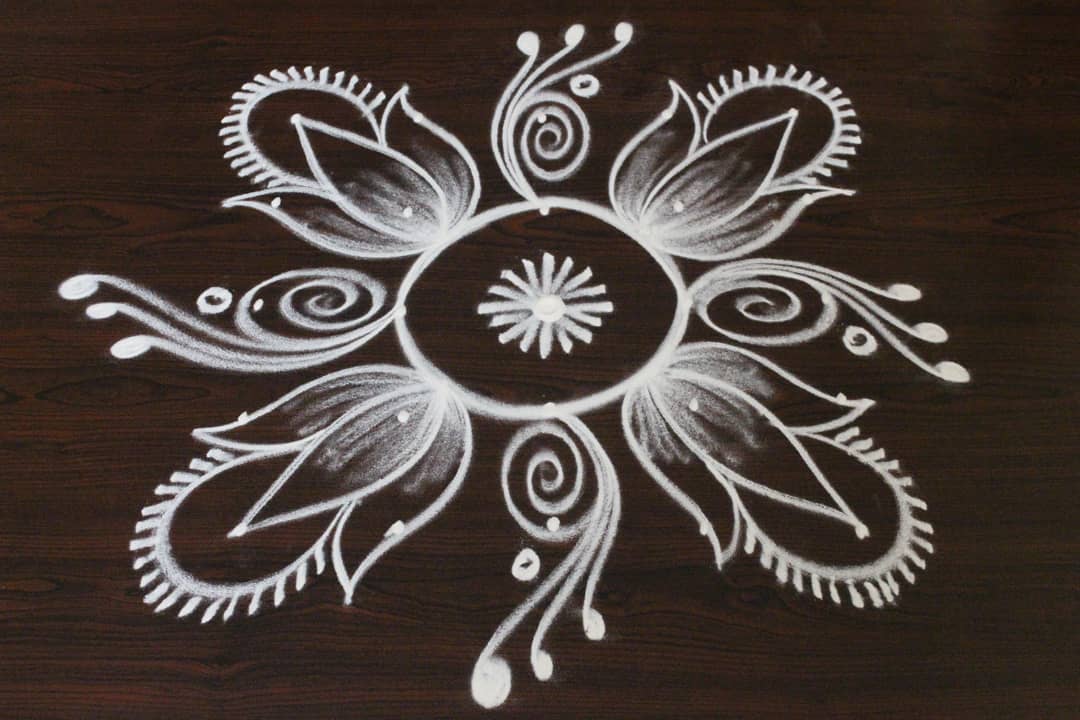 New Rangoli Designs
On each and every Diwali festival rangoli design gets changes and new rangoli design arrives. People loves to celebrate the diwali festival with new trends including lights, decorations, cloths, sweets and even new rangoli designs. Here are some of the new rangoli design which can be tried in this diwali 2019 festival.
Rangoli Designs with Dots
Rangoli design with dots is actually old style of design. In some houses elder still prefers this traditional style of rangoli design with dots. Rangoli design with dots can be drawn with single color as well as in multiple colors. Here are some of the most beautiful, simple and easy rangoli designs with dots which can draw during Diwali 2019 festival in houses to welcome the guests.
Rangoli Designs of Flowers
In ancient times or old times there wasn't any color to use in Rangoli designs to people used to draw rangoli designs with flowers. These kind of rangoli designs spread the natural fragrance in home and it will bring the smile to the guest who visits your home. Rangoli design with flowers are the must designs one should try during Diwali 2019.

Rangoli with Peacock Design
On diwali festival people love to design rangoli with different animals or birds. One of the most popular rangoli designs with birds are rangoli design of peacock. Many people in India welcomes guest during Diwali festival by drawing the most beautiful rangoli design of peacock. Here is some of the finest rangoli design available of peacock.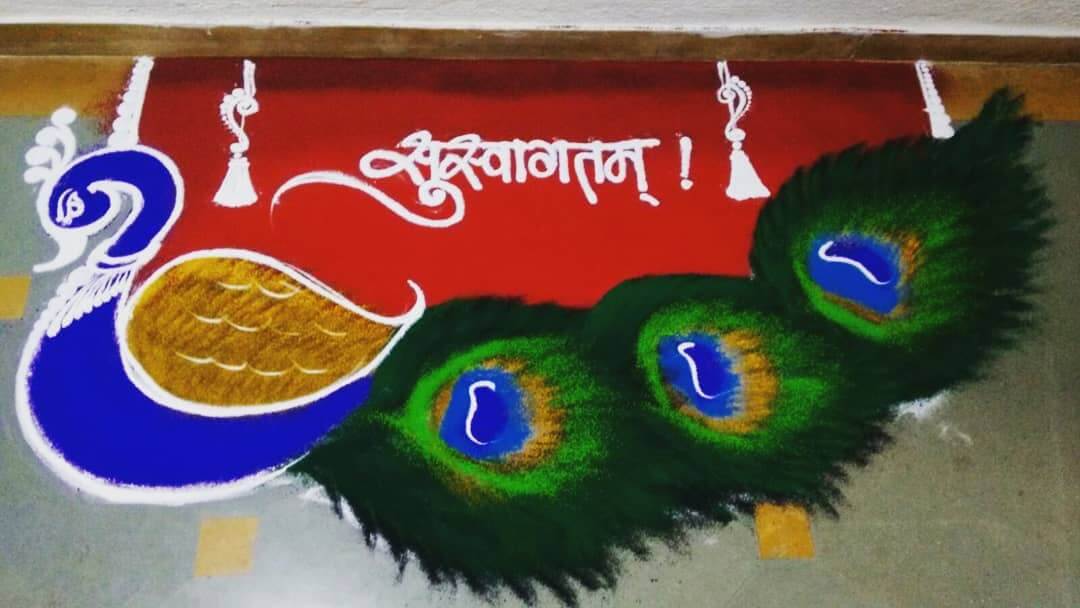 Rangoli Design of Ganesha
Diwali is about festival of lights when lord ram killed Ravana and returned to ayodhya. People welcomed lord ram with the lights. Dussehra is celebrated when lord ram killed the Ravana. On diwali occasion rangoli designs of various lords are also in trend. People love to draw rangoli design of lord ganesha on their door step. Indian festivals are all about culture and in Indian culture people avoid to touch their feet to food, person or even something religious thing. If they are drawing rangoli design of lord ganesha on ground then they make sure that people don't touch their feed to the rangoli.


Welcome Rangoli Design
On diwali festival there is lots of things to do and if you don't have even one hour then rangoli design of welcome is best suited for you to welcome guests. Here are few of the easiest rangoli design with welcome word to draw on your door step.
Environment Rangoli Design for Diwali
On Diwali occasion people finds creative way to do rangoli which really passes social message to the guest. Environment theme would be the perfect for Diwali rangoli design. Environment is very critical for upcoming generation and many people prefers to convey clear message and saying by doing something like this. On this Diwali occasion draw wonderful Environment rangoli design at your doorstep and pass wonderful message for guests.
https://www.stupidgag.com/wp-content/uploads/2018/10/rangoli-design-for-diwali.jpg
766
1280
admin
https://www.stupidgag.com/wp-content/uploads/2020/04/Logo.png
admin
2019-10-02 00:02:26
2019-10-23 00:02:17
40+ Simple & Easy Diwali Rangoli Designs & Patterns to Draw in Diwali 2019