What is Hump Day?
Hump Day or Happy Hump Day is basically Wednesday middle of the work week which represents the climbing hill of work load which leans towards the weekend. Hump Day also represents as a Camel because camel has also the hump on their back. During 1950 Hump Day as Wednesday first used ever and since then each Wednesday in office environment known as hump day.
Hump Day Commercial
On September 2013, GEICO released one Ad represents Hump Day with camel in it and this ad instantly got good reviews because it was so relevant to office workers. In this ad a camel named Caleb moves around the office and asks his co-workers that what day is it and it seems like the camel is literally taunting them.
Hump Day is not a recent trend but it's there since years and the people who works in office environments usually makes fun of it as well. They like to share Happy Hump Day images, quotes, GIF, messages and even pictures with their co-workers on Hump Day or you can say on Wednesday.
Happy Hump Day Quotes
"Wednesdays are like Mondays in the middle of the week!" – Lee Fox Williams
"If all our national holidays were observed on Wednesdays, we could wind up with nine-day weekends." – George Carlin
"To some, it's Hump Day. To us, it's Wednesday's getting its ass kicked and Thursday just asking Friday to switch places." – Dwayne Johnson
"Elephants love Wednesday, and so will you." – Anthony T. Hincks
"People often say that motivation doesn't last. Well, neither does bathing. That's why we recommend it daily." –Zig Ziglar
"A Wednesday with no rain is a dry hump day." – Demetri Martin
"It will not be lonely on Wednesday when it has all around it." – Anthony T. Hincks
"You miss 100 percent of the shots you don't take."– Wayne Gretzky
"Even if you are on the right track, you'll get run over if you just sit there."– Will Rogers
"Whether you think you can or whether you think you can't, you're right!"– Henry Ford
Happy Hump Day Memes, Images & Pictures
#1 Wednesday Meme
#2 Angry Hump Day
#3 Not a Good Wednesday
#4 Love Hate Hump Day
#5 Happy Hump Day…Is It?
#6 Don't Irritate me On Hump Day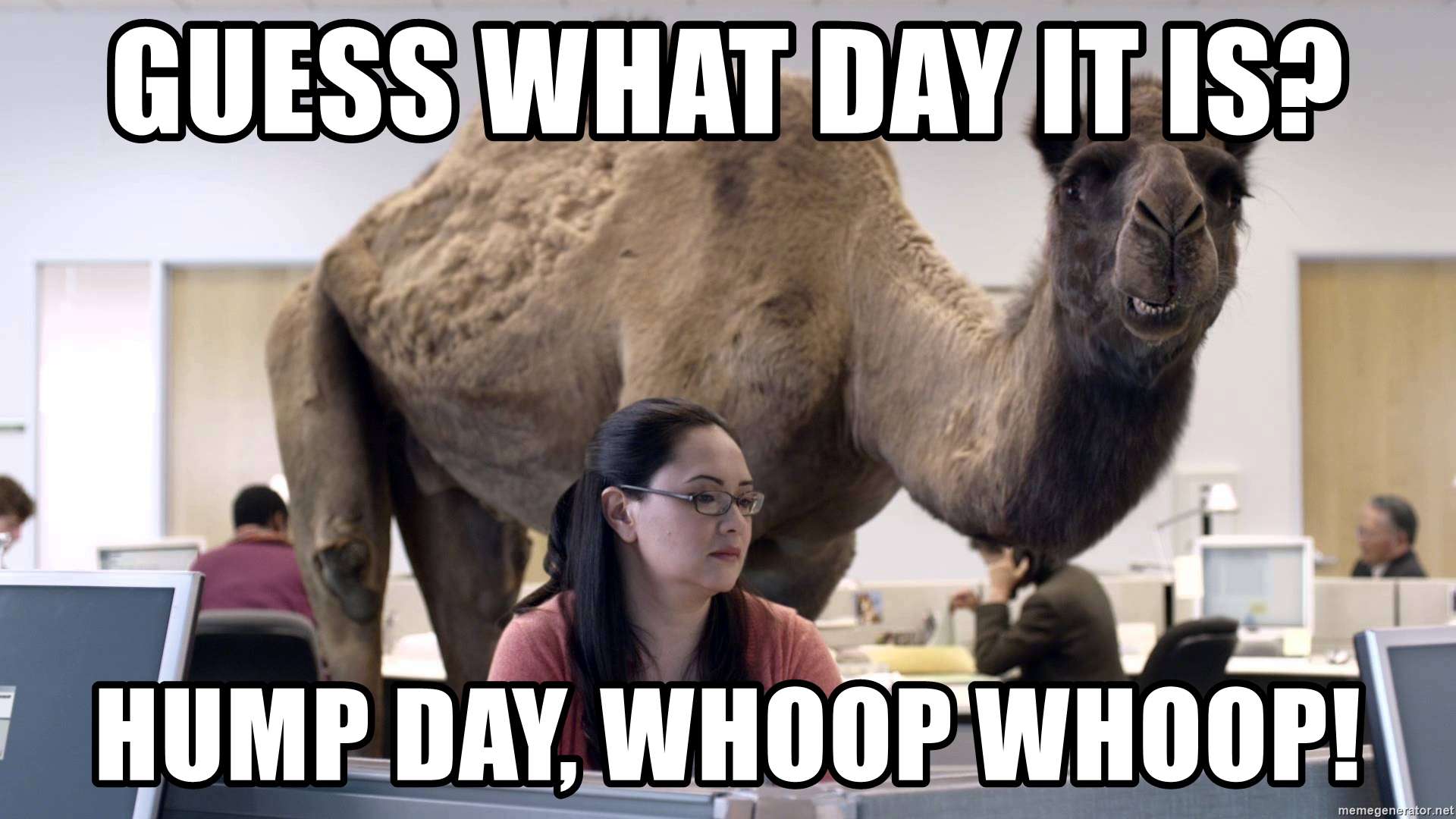 #7 Urghhhhh
#8 It's a Long Hump Day
#9 Wait, What?
#10 True Hump Day
#11 – It's Hump Day
#12 Happy Wednesday All
#13 – Camel Said It
#14 – What is Hump Day?
#15 Oops
Happy Hump Day GIF
https://www.stupidgag.com/wp-content/uploads/2019/10/happy-hump-day-image.jpg
853
1280
admin
https://www.stupidgag.com/wp-content/uploads/2020/04/Logo.png
admin
2019-10-06 16:19:30
2019-10-06 16:22:05
Happy Hump Day 2019 Memes, Images, GIF, Quotes & Pictures