Pushpa: The Rise is an Indian telugu language action drama movie starring Allu Arjun and Rashmika Mandanna. Pushpa movie released in multiple language worldwide including Tamil, Telugu, Kannada and Hindi Language. In Pushpa movie you will also find the much talented actor Fahadh Faasil as Police Inspector role.
Pushpa is getting love from all around the world. One can find plenty of videos on social media of people dancing on Pushpa Songs along with his signature style when he moves his hand in beard.
Recently Pushpa movie collected 100 crore from Hindi version of the movie. Pushpa movie is all about the smuggling of Red Sanders and how Allu Arjun fights with the syndicate and rise to the top. All the songs of Pushpa movie are fabulous and trending across social network.
As you already know that Pushpa movie also released in Hindi language and now available on Amazon Prime Video but, not many people knows the voice behind the artists. Here we are compiling the complete list of Pushpa Hindi Voice dubbing cast and will reveal the hindi voice behind Allu Arjun and Rashmika Mandanna.
Pushpa Hindi Voice Dubbing Cast & Artists List
#1 Allu Arjun – Pushparaj – Shreyas Talpade

#2 Rashmika Mandanna – Srivalli – Smita Malhotra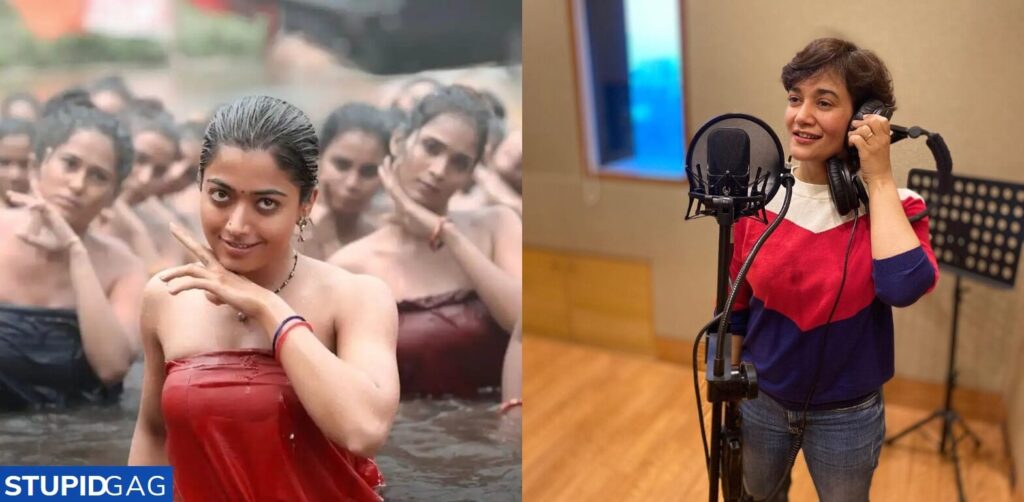 #3 Jagadeesh Bhandari – Keshava – Sahil Vaid

#4 Fahadh Faasil – Bhanwar Singh Shekhawat – Rajesh Khattar

#5 Ajay Ghosh – Konda Reddy – Rajesh Jolly

#6 Shanmukh – Jakka Reddy – Saptrishi Ghosh

#7 Dhananjay – Jolly Reddy – Manoj Pandey

#8 Sunil – Mangalam Srinu – Uday Sabnis

#9 Anasuya Bharadwaj – Dakshayani – Sabina Malik Mausam

#10 Raj Tirandasu – Mogilees – Krutarth Trivedi

#11 Shatru – DSP Govindappa – Manish Wadhwa

#12 Dayanand Reddy – Munirathnam – Shahnawaz Pradhan

#13 Rao Ramesh – MLA Bhumireddy Naidu – Samay Thakkar

#14 Mime Gopi – Chennai Murugan – Vinod Sharma

#15 Kalpalatha – Parvatamma – Parrinita Chatterjee

#16 Ajay – Molleti Mohan – Anup Shukla