Money Heist is one of the most popular Spanish heist crime drama web series which is created by Alex Pina. Money Heist is highest rated and most watched web series on Netflix.
Money Heist which is also known as La Casa de Papel in Spanish language. This web series is all about how one group of people led by The Professor prepares long-heist in Royal Mint of Spain and Bank of Spain. Alvaro Morte played the most important role in this web series named The Professor who is behind all the money heist.
The Money Heist web series is pure thriller web series having too many twists & turns which every fan will enjoy at the edge of the seat. The important thing of these web series is that The Professor given the city names to each member of the group. Reason behind setting up city names for the character is that no one should know better to each other and rather remain stranger.
The most important characters of this web series are The Professor, Berlin, Tokyo, Raquel, Rio and Nairobi. Berlin played the most crucial part in earlier seasons of the Money Heist. One thing is guaranteed about Money Heist that you will fall in love with one character at one moment and the very next moment you will hate that character. Direction, screen play and story is up to the mark for each and every season.
Money Heist aka La Casa De Papel is also available on Hindi language on Netflix. This step was taken after the huge popularity of the show in India. Many renowned voice artists from India has given their voices to popular characters of this show. We have compiled the list of Money Heist voice dubbing artists here.
Money Heist Hindi Voice Dubbing Cast
| | | |
| --- | --- | --- |
| Character Name | Actor Name | Hindi Voice Artist |
| Alberto Vicuña | Miquel García Borda | Mukesh Pandey |
| Alison Parker | María Pedraza | Suvela Sharma |
| Ángel Rubio | Fernando Soto | Aaditya Raaj |
| Ariadna Cascales | Clara Alvarado | Yohana Vachchani |
| Arturo Román | Enrique Arce | Saahil Chadha |
| Berlin | Pedro Alonso | Rajesh Khattar |
| Alfonso Prieto | Juan Fernández | Rajesh Jolly |
| Denver | Jaime Lorente | Sachin Gole |
| Helsinki | Darko Perić | Parminder Ghumman |
| Laura | Ainhoa ​​Santamaría | Saanwari Yagnik |
| Mariví Fuentes | Kiti Mánver | Swati Subramaniam |
| Mercedes Colmenar | Anna Gras | Pallavi Dalal |
| Mónica Gaztambide / Stockholm | Esther Acebo | Rakhee Sharma |
| Moscow | Paco Tous | Mohan Kapoor |
| Nairobi | Alba Flores | Keka Ghoshal |
| Officer Suarez | Mario de la Rosa‏‎ | Saahil Vaid |
| The Professor | Álvaro Morte | Ashwin Mushran |
| Raquel Murillo | Itziar Ituño | Maninee De Mishra |
| Rio | Miguel Herrán | Krutarth Trivedi |
| Tokyo | Úrsula Corberó | Alka Sharma |
| Alicia Cierra | Najwa Nimri | Surbhi Javeri Vyas |
| Luis Tamayo | Fernando Cayo | Punkaj Kalra |
| Gandia | José Manuel Poga | Manoj Pandey |
| Major Sagasta | José Manuel Seda | Sunil Nambiar |
| Benito Antonanzas | Antonio Romero | Vishal Menon |
| Palermo | Rodrigo de la Serna | Mayur Vyas |
| Bogota | Hovik Keuchkerian | Vikrant Chaturvedi |
| Julia / Manila | Belén Cuesta | Barkha Swaroop Saxena |
| Marseille | Luka Peroš | Dev Negi |
| Rafael | Patrick Criado | Archit Maurya |
| Tatiana | Diana Gómez | Nishka Raheja |
| Benjamin | Ramón Agirre | Dinpal Ganguly |
| Benjamin | Ramón Agirre | Shahnawaz Pradhan |
| Amanda | Olalla Hernández | Priti Bahadur |
| Miguel | Carlos Suárez | Devansh Doshi |
Money Heist (la casa de papel) Hindi Voice Dubbing Cast & Artists List
#1 The Professor – Álvaro Morte – Ashwin Mushran
#2 Raquel Murillo – Itziar Ituño – Maninee De Mishra
#3 Berlin – Pedro Alonso – Rajesh Khattar
#4 Denver – Jaime Lorente – Sachin Gole
#5 Nairobi – Alba Flores – Keka Ghoshal
#6 Mónica Gaztambide / Stockholm – Esther Acebo – Rakhee Sharma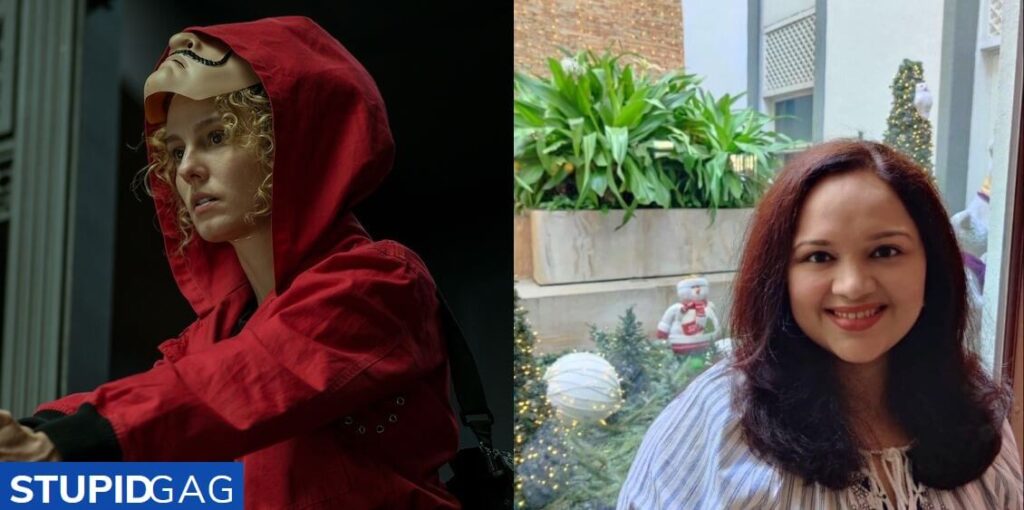 #7 Moscow – Paco Tous – Mohan Kapoor
#8 Arturo Román – Enrique Arce – Saahil Chadha
#9 Alison Parker – María Pedraza – Suvela Sharma
#10 Ariadna Cascales – Clara Alvarado – Yohana Vachchani
#11 Alfonso Prieto – Juan Fernández – Rajesh Jolly
#12 Laura – Ainhoa ​​Santamaría – Saanwari Yagnik
#13 Mariví Fuentes – Kiti Mánver – Swati Subramaniam
#14 Officer Suarez – Mario de la Rosa‏‎ – Saahil Vaid
#15 Helsinki – Darko Perić – Parminder Ghumman
#16 Rio – Miguel Herrán – Krutarth Trivedi
#17 Tokyo – Úrsula Corberó – Alka Sharma
#18 Alicia Cierra – Najwa Nimri – Surbhi Javeri Vyas
#19 Luis Tamayo – Fernando Cayo – Punkaj Kalra
#20 Gandia – José Manuel Poga – Manoj Pandey
#21 Major Sagasta – José Manuel Seda – Sunil Nambiar
#22 Benito Antonanzas – Antonio Romero – Vishal Menon
#23 Palermo – Rodrigo de la Serna – Mayur Vyas
#24 Bogota – Hovik Keuchkerian – Vikrant Chaturvedi
#25 Julia / Manila – Belén Cuesta – Barkha Swaroop Saxena
#26 Marseille  – Luka Peroš – Dev Negi
#27 Rafael – Patrick Criado – Archit Maurya
#28 Tatiana – Diana Gómez – Nishka Raheja
#29 Benjamin – Ramón Agirre – Shahnawaz Pradhan
#30 Amanda – Olalla Hernández – Priti Bahadur