Stock Market is all about perfect execution, detailed research, advance analysis of company and some good knowledge of finance. If you fulfill all the criteria then you are ready to invest in stock market and get some good returns as well.
Plenty of young traders invest directly in stock market without doing proper market research and ends up in loss. If you are planning to invest in stock market then avoid stock recommendations from friends and family members or even from whatsapp trading groups. First of all take a deep breath and start researching about companies, their financial backgrounds, debt, quarterly and yearly results, net profit and many other things.
If you don't have financial background and struggling to do market research then you should identify the top companies based on it's sales & customers. Still confused? Ok, let me make it very clear. Invest in those stocks which are market leaders in their niche, for example – Tesla, Apple & Microsoft are such companies which are market leaders and have global audience as well.
Apart from this you need to decide if you want to invest in stocks for longer term or shorter term. Well, for this kind of decisions stock screener or stock scanner always helps. Stock Screener allows you to see complete stock information in single screen. It allows you to check balance sheet, profit, quarterly & yearly results, company news & updates, debt & borrowings and many more things.
Many astonished trade brokers often select their stocks after researching about company's history, financial statements and latest news thus they makes good profit. Experienced traders won't share their secret tricks to invest in stocks because they have invested their time and money to learn this skills.
5 Best Stock Screeners and Stock Scanners
#1 Trade Ideas
Trade Ideas is one of the best stock screener and stock scanner platform available for USA & Canada Stock Exchange. Trade Ideas is super fast screener platform which has AI-Driven functionalities provides you perfect screening of trading ideas. With Trade Ideas screener traders can prepare the list of best stocks for short term and long term investments.
Trade Ideas platform was founded back in 2003 by one group of financial technology entrepreneurs when the demand of DIY investing was at its peak. They have developed customized server based technology which able to connects directly to exchanges and it enabled to track every single stock and ETF listed on stock exchanges and traded on that day.
Traders who invest in stock market on regular bases needs real time data, behavioral pattern on stock charts and many more things. Trade Ideas provides perfect data which generated from high-end AI machine and technology. This tool uses technical, fundamental and social data to scan plenty of trading opportunities for traders with upside potential.
Pros
Stock screener with AI-enabled functionalities & technology
Integration with brokerages
Customizable screens
Live trading room
Real time stock trading data
One Click Trading
Cons
Works with U.S. and Canadian stock exchanges
Pricing
$2268 Annual plan with all the features (Premium Plan)
$1068 Annual plan with limited features (Standard Plan)
#2 Black Box Stocks
Black Box Stocks is one of the most advanced screener available online. On Black Box Stocks traders will get stock screener, options screener, trading alerts, and education with one subscription.
Black Box Stocks was founded in 2011 by Partner Eric Pharis which has their data servers directly near the stock exchanges to avoid trading latency. BlackBoxStocks is one of the most powerful platforms which provide complete in-depth data of any stock's behavioral pattern with its artificial intelligence technology.
BlackBoxStocks has some fabulous features including Pre & Post Market Scanner, Real time stock updates, advance charts and many more.
Top Features
Pre Market Scanner
Post Market Scanner
Stocktwits Feed
Volatility Indicator
Real Time Quotes
Volume Ratio Scanner
Pros
Combined screening tools for stocks and options
Strong traders community
Discord channel and private Twitter groups
Free educational & learning events
Cons
Chart could be more complicated due to many information together and can distract the attention
Pricing
$99.97 Monthly Plan with all the features
$959 Annual plan with all features
#3 Finviz
Finviz is one of the best and free stock market screener and scanner available online for traders. It's also available in pro version which is called as Finviz Elite. Finviz is privately held company and founded by Juraj Duris back in 2007.
Finviz stands of financial visualizations and currently around 18.5 million people use this screener/website every month.
If any trader wants to scan overall market conditions and chart then finviz is best solution for them. Finviz is not made for day traders but if you want technical and fundamental swing then position traders will surely enjoy FinViz platform.
Finviz has many premium features including real-time data, pre-market data, advanced charting platform, data filters and many more advanced technical solutions for traders. One can use this platform to understand the history of company, quarterly results, balance sheet, market cap data, cash flow, income statement, debt, borrowings and many more things.
Pros
Historical chart for download
Latest stock and market news available
Proper fundamental filters are available
Free version is available
Cons
Basic stock scanner charting
Not for day traders
Pricing
$39.50 Monthly Plan with all the features
$299.50 Annual plan with all features ($24.96 / Month)
#4 Benzinga Pro
Benzinga Pro is one stop solution for faster stock market news and research for traders. Benzinga was founded in 2010 by Jason Raznick and currently gets 16 million users per month.
Benzinga was initially launched as stock market news and event based platform but slowly they have expanded their functionalities and features. Currently Benzinga pro has real time stock news & updates, stock screener, stock scanner, trade signal feature, trading chat room and wide range of other features.
Here is the detailed list of features
Real time news feed
Detailed analysis window
Event calendar
Watch list feature
Top movers list
Stock Scanner
Trading Signals
Stock Screener
Squawk Alert
Traders Chat Room
Pros
Stock screener, Stock Scanner and Real time news platform at one place
Free trial available
Fundamental and technical screening criteria to evaluate stocks
Customizable newsfeed available
Squawk box and audio alerts available
Cons
Trading is not available from the platform
Paid plans are very expensive
Pricing
$99 Monthly Plan with limited features
$177 Monthly Plan with Basic Features
$347 Monthly Plan with All Features
#5 Trading View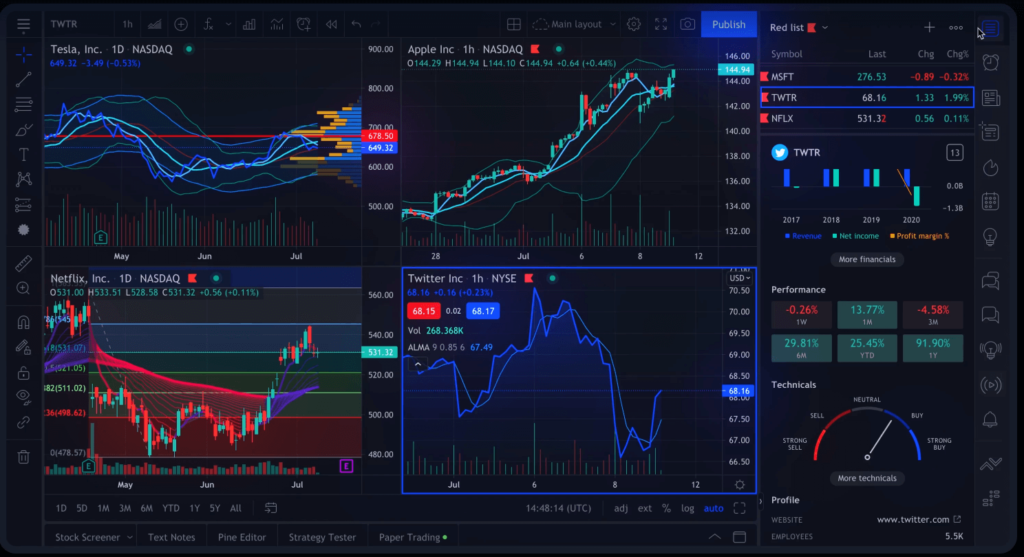 Trading View one of the best stock screener to evaluate stock performance and its favorite platform of traders and investors. Trading View is free stock screener platform but it has pro version as well with advanced features and traders are more than happy to buy pro version to get maximum return and profits from stock market.
Trading View has plenty of good features including open multiple charts at one time with different chart types available. Trading View also has 50 smart drawing tools available including geometric shapes, lines and many more.
Create watch list of your favorite stocks and also set the price alerts at specific levels. Trader can get alerts via SMS, Push to phone, email or various web hooks.
Trading View has currently 30 million monthly traders which is quite good and big number to trust this platform. Traders can create custom formulas as per their requirement to evaluate stocks. Wide range of time intervals available on this platform including seconds and range bars.
Pros
12 Chart Types available
Open Up To 8 Charts per tab
Rewind market with user defined speed and resolution
Create custom formulas
30 million users per month
50+ Smart Drawling Tools
Cons
Longer Customer Support
Takes time to understand the tool
Pricing
$14.95 Monthly Plan with limited features (Pro)
$29.95 Monthly Plan with Basic Features (Pro +)
$59.95 Monthly Plan with All Features (Premium)